The Best Alternatives to KitchenAid Stand Mixers
7 min read
Discover the top alternatives to KitchenAid stand mixers in our latest article. From affordable options to high-end models, we've got you covered.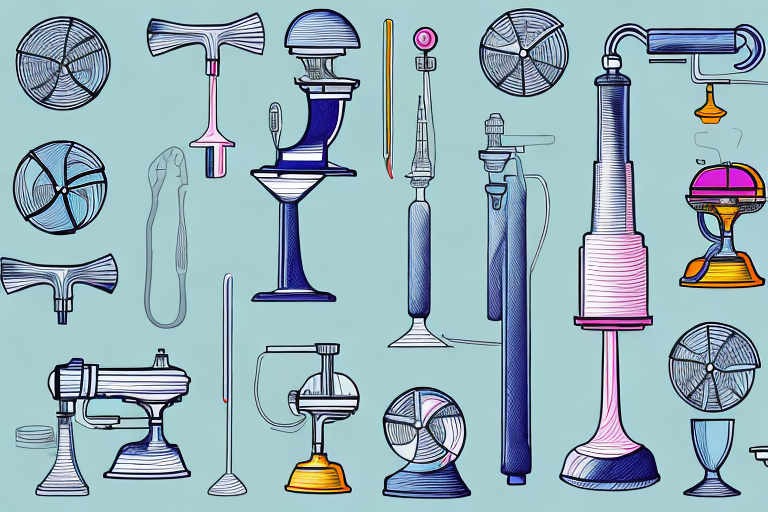 Are you tired of using a KitchenAid stand mixer for all of your mixing needs? Look no further because we have compiled a list of the best alternatives in the market. In this article, we will cover everything you need to know about these mixers, from their features to user reviews and maintenance tips. Read on to find your new favorite mixer.
Why You Might Want to Try Something Different
While KitchenAid stand mixers are a popular choice for home and commercial kitchens, you might want to explore other options for various reasons. Perhaps you need a mixer that can handle more substantial dough, or you are looking for a more budget-friendly option without compromising quality. Whatever the reason, there are plenty of alternatives that can fit your unique needs and preferences.
One reason to consider other options is if you have specific dietary needs. For example, if you follow a gluten-free diet, you may want to look for a mixer that has specialized attachments for gluten-free baking. Additionally, if you are vegan or vegetarian, you may want to consider a mixer that has attachments for making plant-based milks and cheeses. By exploring different options, you can find a mixer that not only meets your basic needs but also enhances your cooking and baking experience.
A Brief History of Stand Mixers
To understand the evolution of mixers, we need to go back to 1908 when the first electric mixer was introduced. It was called the "Wonder Mixer," and it wasn't until 1919 that KitchenAid would launch their first mixer. Since then, several brands have created mixers with innovative features, making them popular in both professional and home kitchens.
One of the most significant advancements in stand mixers was the introduction of planetary mixing action in the 1930s. This feature allowed the mixer to reach every part of the bowl, resulting in more thorough mixing. Another innovation was the addition of attachments, such as pasta makers and meat grinders, which made the mixer a versatile kitchen tool.
In recent years, stand mixers have become even more advanced with the introduction of digital controls and Bluetooth connectivity. Some models even have built-in scales and temperature sensors, allowing for precise measurements and temperature control. Despite these advancements, the classic stand mixer design remains popular and continues to be a staple in kitchens around the world.
Key Features to Look for in a Stand Mixer
When choosing a mixer, it's crucial to consider the features that are essential for your baking or cooking needs. The most important features include motor power, speed settings, bowl capacity, attachments, and overall construction. For example, if you frequently make bread dough, you will want to look for a mixer with a powerful motor and durable mixing attachments. Consider your specific needs before making a purchase.
In addition to the key features mentioned above, there are a few other factors to keep in mind when selecting a stand mixer. One important consideration is the size and weight of the mixer. If you have limited counter space or plan to store the mixer in a cabinet, you may want to choose a smaller, more compact model. On the other hand, if you frequently make large batches of dough or batter, a heavier, more substantial mixer may be a better choice.
Another feature to look for is ease of use. Some mixers come with intuitive controls and simple attachments, while others may be more complicated to operate. If you're new to baking or cooking, you may want to choose a mixer with straightforward controls and easy-to-understand instructions. Additionally, some mixers come with helpful features like a timer or automatic shut-off, which can make your baking experience more convenient and stress-free.
Top Picks for Multi-Purpose Mixers
If versatility is what you're looking for, then the Kenwood Chef XL Titanium and the Breville Scraper Mixer Pro are excellent choices. They both come with multiple attachments that allow you to make everything from pizza dough to ice cream. The Kenwood Chef, in particular, has a generous 6.7-liter bowl, making it great for whipping cream and mixing large batches of batter.
Another great option for a multi-purpose mixer is the KitchenAid Artisan Stand Mixer. It also comes with a variety of attachments, including a dough hook, wire whip, and flat beater, making it perfect for making bread, cakes, and even pasta. The Artisan Stand Mixer also has a tilt-head design, which makes it easy to add ingredients and clean the bowl. Plus, with its sleek and stylish design, it will look great on any kitchen counter.
The Best Budget-Friendly Options
For those on a tight budget, the Hamilton Beach 63390 and the Sunbeam MixMaster are affordable yet reliable options. The Hamilton Beach mixer boasts a 300-watt motor, six-speed settings, and a four-quart stainless steel mixing bowl, making it an ideal choice for beginners. The Sunbeam MixMaster has a 350-watt motor and 12-speed settings, with a comfortable handle design that makes it easy to carry and store.
In addition to the Hamilton Beach and Sunbeam options, there are other budget-friendly mixers worth considering. The Oster FPSTHM0152-NP 5 Speed Hand Mixer is a great choice for those who prefer a hand-held mixer. It has five speeds, a powerful 250-watt motor, and comes with chrome beaters and dough hooks. Another option is the BLACK+DECKER MX600B Helix Performance Premium 5-Speed Hand Mixer. It has a unique helix design that improves mixing performance, five speeds, and a powerful 250-watt motor.
When shopping for a budget-friendly mixer, it's important to consider the warranty and customer service offered by the manufacturer. Some brands offer longer warranties and better customer service than others, which can be important if you encounter any issues with your mixer. It's also a good idea to read reviews from other customers to get an idea of the mixer's performance and durability over time.
High-End Mixers Worth the Splurge
If money is no object, then the Smeg Stand Mixer and the Ankarsrum Original are worth considering. The Smeg mixer has a retro design that will add flair to any kitchen, and it comes with a range of attachments, including a pasta maker and a meat grinder. The Ankarsrum Original, on the other hand, has a unique design that allows for a more efficient mixing action. It also has a massive 7.5-liter bowl, ensuring you can make large batches of dough or batter without any problems.
Another high-end mixer worth considering is the KitchenAid Pro Line Series. This mixer has a powerful motor and a large capacity bowl, making it perfect for heavy-duty mixing tasks. It also comes with a range of attachments, including a spiralizer and a juicer, allowing you to get even more use out of it. Additionally, the KitchenAid Pro Line Series has a sleek and modern design that will look great in any kitchen.
The Stand Mixer vs Hand Mixer Debate: Which is Better?
While stand mixers are excellent for their versatility and power, hand mixers have their advantages too. Hand mixers are lightweight, portable, and great for small batches. However, stand mixers offer more stability and allow for more extended mixing times, making them ideal for larger batches and more substantial dough. Ultimately, the choice between the two comes down to personal preference and baking needs.
Mixing it Up: The Benefits of Planetary vs Spiral Mixing Action
Stand mixers come with either a planetary or a spiral mixing action. Planetary mixing action is when the attachments move in a circular motion while rotating around the bowl. Spiral mixing action, on the other hand, is when the bowl rotates while the attachments move around the bowl in a figure eight pattern. Planetary mixers are better for lighter tasks such as whipping cream, while spiral mixers are ideal for kneading dense dough.
Niche Mixers for Specific Baking Needs (e.g. Bread Dough, Pasta Making)
If you're a serious baker, then you might want to consider getting a mixer specifically designed for your baking needs. For example, the Bosch Universal Plus is great for making bread dough, while the KitchenAid Pasta Roller attachment is perfect for homemade pasta. There are also mixers for tasks such as grinding meat or making ice cream, so think about what you need before making a purchase.
User Reviews: What People Love (and Hate) About These Alternatives
Before making a purchase, it's always essential to read user reviews to see what others think about the mixer you're interested in. Based on customer feedback, here are some pros and cons:
The Kenwood Chef XL Titanium is a versatile mixer that can handle large batches, but it's also somewhat heavy.
The Smeg Stand Mixer has a beautiful design and a vast range of attachments, but it's also quite noisy.
The Hamilton Beach 63390 is an affordable mixer that does a decent job, but the plastic construction might be off-putting to some.
Maintenance and Care Tips for Your New Stand Mixer
After purchasing your new mixer, it's crucial to take proper care of it to prolong its lifespan. The most important maintenance task is to clean the mixer after each use, especially the attachments and the bowl. Use warm water and gentle soap to avoid damaging the mixer's surface. Also, make sure to store the mixer in a dry and cool place to prevent rust and other damages.
Overall, there are plenty of alternatives to KitchenAid stand mixers that are worth considering. From high-end options to budget-friendly choices, the right mixer for you depends on your baking needs and preferences. We hope that this article has helped you find your new favorite mixer.