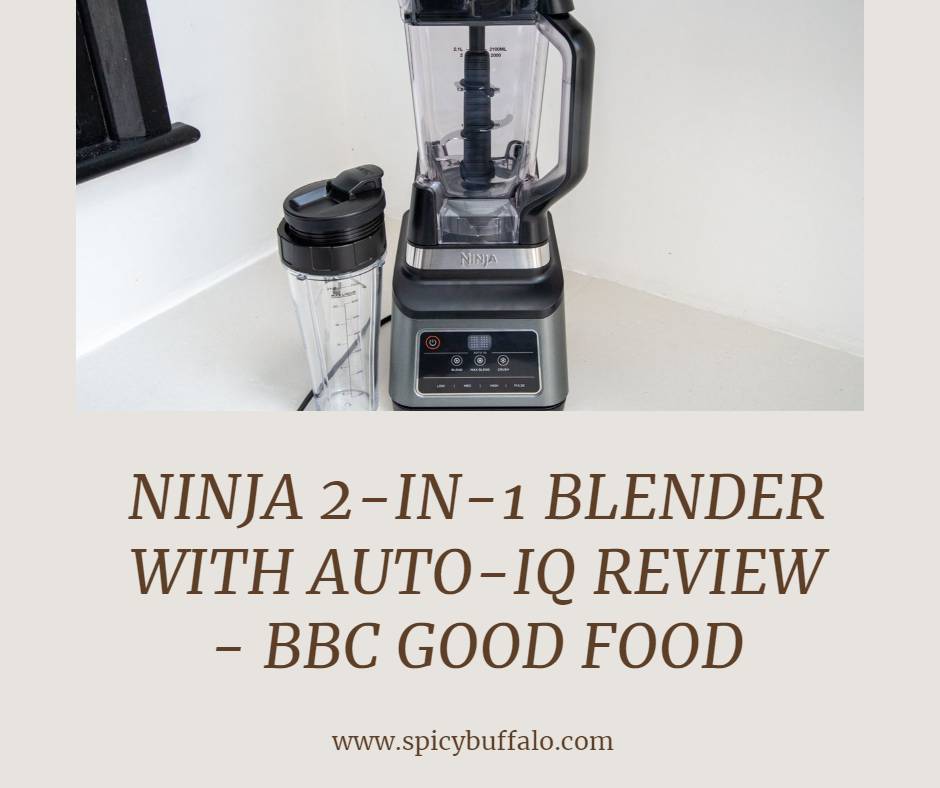 An extremely powerful blender, the Ninja 2-in-1 Blender With Auto IQ BN750UK can make short work of tough ingredients, effortlessly crushing ice and blending drinks. It's not so good for dry ingredients, leaving behind chunks, but excels at anything with a fair amount of liquid in it. Simple controls on the front make this blender easy to use, particularly if you use the automatic modes. And, you get a lot of blender for your money, with a self-serve cup sitting alongside the main jug. Just be aware that this blender is very noisy.
What it lacks in finesse the Ninja 2-in-1 Blender With Auto IQ BN750UK makes up with raw power, smart automatic settings and all the accessories you're likely to need at a very attractive price. While this blender is better with wet ingredients, rather than dry – and it's very loud – for smoothies and sauces it's a fantastic choice.
Design and features
Jug and individual cup provided in the box
Auto-IQ programmes do some jobs for you automatically
Everything can go in the dishwasher
Ninja provides pretty much everything you could want in the box, including a 2.1-litre Total Crushing Jug for larger portions and a 700ml Single-Serve Cup, which also has a travel cup lid so that you can blend and go.
Both parts are made of plastic, so you don't get the same rugged feel as you do with KitchenAid's blenders, but the advantage is that Ninja's jug is lighter and less likely to break if you drop it. However, you can't use Ninja's jug for hot liquids, so you can't finish off a soup in this model.
The main Total Crushing Jug is well made and has a few safety features. First, you have to lock the jug into place, and you have to have the lid attached before you can power the machine on. Likewise, the Single-Serve cup has to be locked into place before you can turn it on.
While the Single-Serve cup has a traditional screw-in blade system, the Total Crushing Jug uses Ninja's multi-bladed attachment, which cuts ingredients at different heights throughout the jug. This assembly pulls up and out for easy removal and cleaning.
Just be careful, though. While you can lift up the spout at the front of the jug for pouring out thinner mixtures, if you take the lid off to pour out thicker blends you have to remember to take out the blades or they'll just fall out as you pour.
Packed with power and offering Auto-IQ presets, Ninja's 2-in-1 blender is a versatile blender made for daily use and keeping on the countertop. The brand is known for the versatility of its appliances, like the Ninja 9-in-1 multicooker and that also applies here.
Available from Amazon (£99.00), Very (£99.00) and Appliances Direct (£99.00).
A 700ml individual blender cup is included, which locks directly onto the base to use with its speed settings. The sealable lid is reliably leakproof. The only real drawbacks to this model are its size on the countertop and loudness.
The quality of its components is the first thing to strike you about the Ninja. Inside the box is a 2100ml jug with a 1900ml working capacity and a surprisingly engineered lid with a lift-spout.
There's no plunger. Instead, the blender operates using a frighteningly named 'total crushing' blade system that extends up a central stem rather than sitting at the bottom. It's incredibly efficient at reaching and drawing ingredients down during blending for smooth results. Plus, the blades lift out in one for easy cleaning, are interchangeable and incredibly sharp.
The Auto-IQ technology just refers to its preset programs. What stands this blender apart is that these preset programs are fulfilled in a variety of blending phases and pauses, so the 60-second blend program varies its speeds – similar to they way you would manually when pulsing. Max Blend and Ice Crush settings are also presets. We preferred the manual settings for regular use, but would use the presets for soups.
The frozen fruit for the super berry smoothie needed additional liquid to get going but blitzed easily in under 20 seconds. It's much easier to make smaller quantities in the single-serve cup than the cavernous 2.1L jug. We halved the beetroots to test the blade system's robustness and they were pulped down quickly, with a steadying hand on the jug. There was also no smell or staining of the components after making our homemade tomato sauce.
It's very loud, so not one for making a quick smoothie early in the morning. However, the 1200W motor is very efficient, so the noise is short-lived.
The 2.1L capacity is incredibly practical for anyone making large quantities to freeze or feed family and friends, but the single-serve cup adds an element of everyday practicality. A nice recipe booklet also accompanies the blender so you've got inspiration from the off to set it up and get blending. For convenience and safety, the components are all dishwasher-safe on the top shelf.
Ninja 2-in-1 blender BN750UK specifications
In the box: Motor box, 2.1L Total Crushing jug and lid, stacked blade assembly, 700ml single-serve cup and spout lid, pro extractor blade assembly, instruction booklet, inspiration guide
Serial number: BN750UK
Wattage: 1200W
Jug capacity: 2.1L
Speed options: low, medium, high and pulse
Manufacturer guarantee: 1 year
Recipe booklet included: Y
Is the Ninja Blender worth buying?
I love this blender, it's small and easy to use, and the Auto-IQ programmes are great. I would recommend it to anyone who needs a powerful blender with a few different options.
Pros Powerful motor
Quiet operation
Easy to clean parts
Lightweight design
Fits on the countertop well Cons Jug is very heavy when full of water – adds extra strain on handle, also jug won't fit all round the base of your upright fridge (have to place sideways) A bit noisy – even on low setting, but that's to be expected with any blender.
If you're on the market for a handy blender, this model is perfect for making quick smoothies and soups with ease. Ninja's reputation for reliable, powerful products means you can trust this one to handle whatever ingredients you throw at it.
Which Ninja appliance is best?
Given that many of the Ninja products are very similar in appearance and functionality, it can be hard to work out which one is best for you. Here's our comparison guide to help you make the right choice:
Ninja Kitchen System 1200 (BL610) ​ The 1200W motor is strong enough to crush ice, which makes the BL610 great for making frozen cocktails.
The Auto-iQ function makes it easy to make healthy smoothies, and its compact design fits neatly on the kitchen countertop.
It has a large capacity of 2 litres, so you can use all parts of the blender with ease. The blender bowl is easy to clean, and the blade assembly is dishwasher-safe. ​​
Ninja Express Blender (BL100) The BL100 feature a 1300W motor and an 800W blade, making it one of the most powerful blenders on the market. It's also incredibly fast at processing ingredients.
It's compatible with all Ninja products, so you can make the most of their awesome Auto-iQ technology. ​​
Ninja Professional Mega Prep (CBM1400) Although not as powerful as its larger counterparts, this compact Ninja can still make smoothies with ease owing to its 1330W motor and Turbo button.
Is Ninja 1000 a good blender?
The 1000W motor is stronger than any of the other Ninja models, and the base is a lot sturdier, so it's harder to knock over. It's great for crushing ice and frozen fruit.
It's also easy to hold onto when blending with one hand and there are no crevices where food particles can accumulate.
Its bigger size means you can blend larger quantities of ingredients, but if you don't need that kind of capacity then start with something smaller. The 1000 model is also quite difficult to store away in a conventional kitchen cupboard without it taking up too much room.
​Ninja BL660 Blender With its 1000W motor, the Ninja BL660 is one of the most powerful blenders available. The base of the jug is quite heavy, so it's easy to place (and remove) on the countertop.
It's also got a really handy Auto-iQ function with 20 presets, so it's easy to get started and make healthy blends quickly. It also has a wider base and taller jug than some of the other models, so it's easier to hold onto when blending large quantities. ​​
Ninja Master Prep Professional (CQB045) ​ The 1000 W motor makes this model perfect for crushing ice and frozen fruit with ease. And the wide base means you can blend large quantities of ingredients without the base slipping around.
The 900W motor is strong enough for most tasks, and the bowl locks into place well when blending – so you can hold onto it when blending with one hand. And if you're a big fan of fresh juices and smoothies, this model's included recipe book will give you plenty of inspiration. ​​
Ninja Personal Blender With 1000 Watts, this is one of the most powerful blenders available on the market today. The Auto-iQ feature makes it easy to make delicious smoothies quickly and efficiently, while its 900W motor provides enough power to crush ice cubes with ease.
Which Ninja blender is best for smoothies?
Ninja blenders are perfect for people who love to make smoothies. Their Auto-iQ technology ensures that the motors automatically adjust to your blending requirements and produce a consistent, smooth texture. They also come with pre-programmed settings for specific ingredients, such as frozen fruit or ice cubes. This makes it really quick and easy to get started on making your favourite blend!
For best results in the very first stage of making a smoothie, your ingredients should be frozen on the day you're planning to use them. Throwing them in a few hours before you want a drink might mean you have to keep blending them longer than necessary because they were previously at room temperature. To get the best results, make sure you start with fresh ingredients.
Some blender attachments are compatible with Ninja blenders and can be used to add extra texture to your smoothies. You can use anything from a dough blade to a whisk, so experiment and find out what you like.
How long do ninja blenders last?
Ninja blenders are built to last, with Ninja-specific parts that keep the components looking sleek and new.
Some of the Ninja models come with a 3 year warranty, and others come with a 5 year guarantee. That's a great peace of mind if you're considering high-end appliances for your kitchen.
The only real downside is that most of these top blenders aren't going to be on sale for much longer, so when you buy one, it might be worth investing in a good quality blender cover (just to protect it from damage in the future).​
What are Ninja Pros & Cons?
Pros Compact design fits neatly on countertop or cupboard shelf.
Large jug capacity (up to 2.5 litres).
Auto-iQ feature means all settings can be accessed with one hand. Cons The 900W motor is powerful but a little loud.
Some parts are relatively expensive, and there are some parts that need replacing after some time.
​Ninja Blender Review Conclusion – Does Ninja Blend Well? The Ninja system is the best blender for the money, and although it's slightly more expensive than other similar products, it's well worth the investment if you want a high-quality blender that will last for years.
If you want something to help you make healthy and nutritious drinks, then a Ninja blender should be at the top of your list.
You can buy a high-quality, reliable Ninja for less than £100, so it's easy to get started on making your favourite smoothies or shakes.​
The only downside is that all of these models are slightly more expensive than other brands; however, that's how technology works! You might think about adding one of these to your Christmas or birthday list for this year.
​You're probably wondering how awesome Ninja blenders are already, and we think you'll agree that they're absolutely fantastic. The ninja blenders are not a bad choice, in the sense that they have everything that they need to blend anything, but the only problem is that their price is high enough in comparison to other brands.
If you're not looking to spend a lot of money on your blender and don't mind spending a little, then the Ninja blenders are the best choice for you.​
​Ninja is a brand that goes well with coffee, smoothies, and also chia seeds, but not so much with ice cracking.
Ninja blender reviews say it all: they have been proven to be very efficient. So if you want to save up some money and still get something incredibly powerful, then check out our Ninja blenders review for more information.