The Complete Guide to the Emeril Air Fryer
16 min read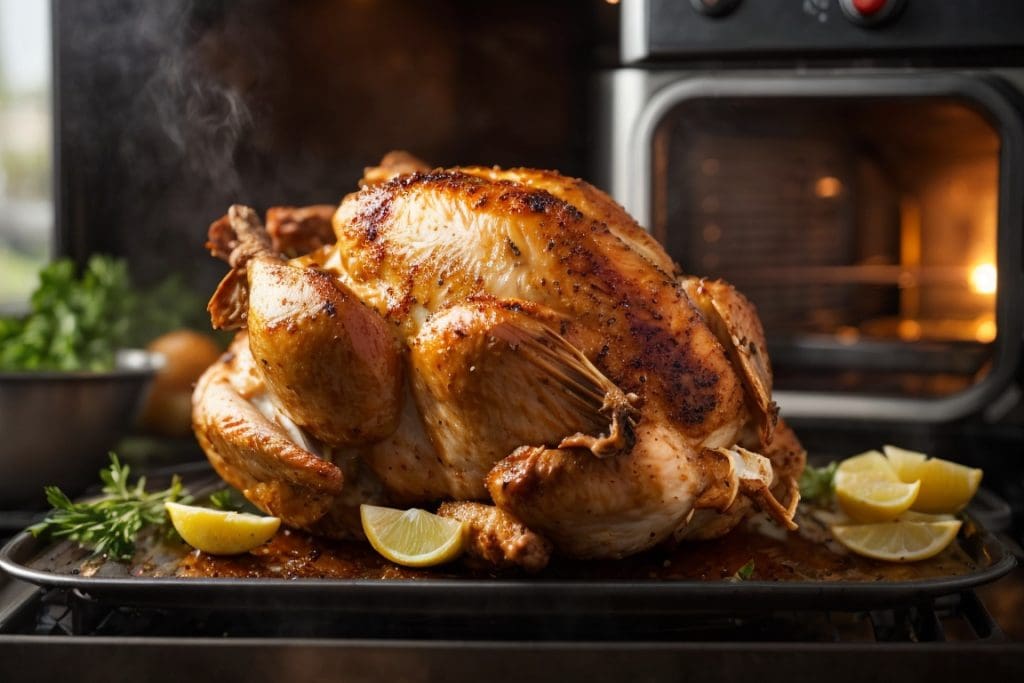 The Emeril Air Fryer is a popular kitchen appliance that uses rapid air circulation technology to cook food with little to no oil. This gives you the crisp, delicious taste of fried foods without all the extra calories and fat. In this comprehensive guide, we'll explore everything you need to know about the Emeril Air Fryer, from how it works to recipes, troubleshooting tips, comparisons, and maintenance best practices.
1. Emeril Air Fryer Overview
The Emeril Air Fryer line features several models designed by acclaimed chef Emeril Lagasse. Here are the key things to know about these air fryers:
Features and Specifications
Utilizes rapid air heat technology to crispy foods with less oil
Features an easy-to-use digital touchscreen interface
Comes with a wide temperature range from 175°F to 400°F
Has a built-in timer up to 60 minutes
Auto shut-off safety feature for added peace of mind
Cool-touch exterior stays safe to touch during cooking
Includes a non-stick crisper tray and other accessories
Stainless steel and plastic construction for durability
1-year limited warranty
Different Models Available
There are several sizes and configurations of the Emeril Air Fryer:
Emeril Lagasse Power AirFryer 360 – 5.8 quart capacity
Emeril Lagasse Power AirFryer 360 Plus – 6 quart capacity with rotisserie
Emeril Lagasse Power AirFryer 360 XL – 8 quart larger capacity
Emeril Lagasse Power AirFryer 360 Deluxe – 8 quart deluxe model
Price Range and Where to Buy
Emeril Air Fryers range in price from $99 to $249 depending on size and features. They are available online at Amazon, Walmart, Target, Kohl's, and other major retailers.
Warranty and Customer Support
All Emeril Air Fryer models come with a 1-year limited warranty. Customer support and product information is available through the company's website.
Emeril Lagasse's Involvement
The Emeril Air Fryer line is designed and promoted in partnership with celebrity chef Emeril Lagasse. His recipes, food knowledge, and cooking techniques inform the product's development.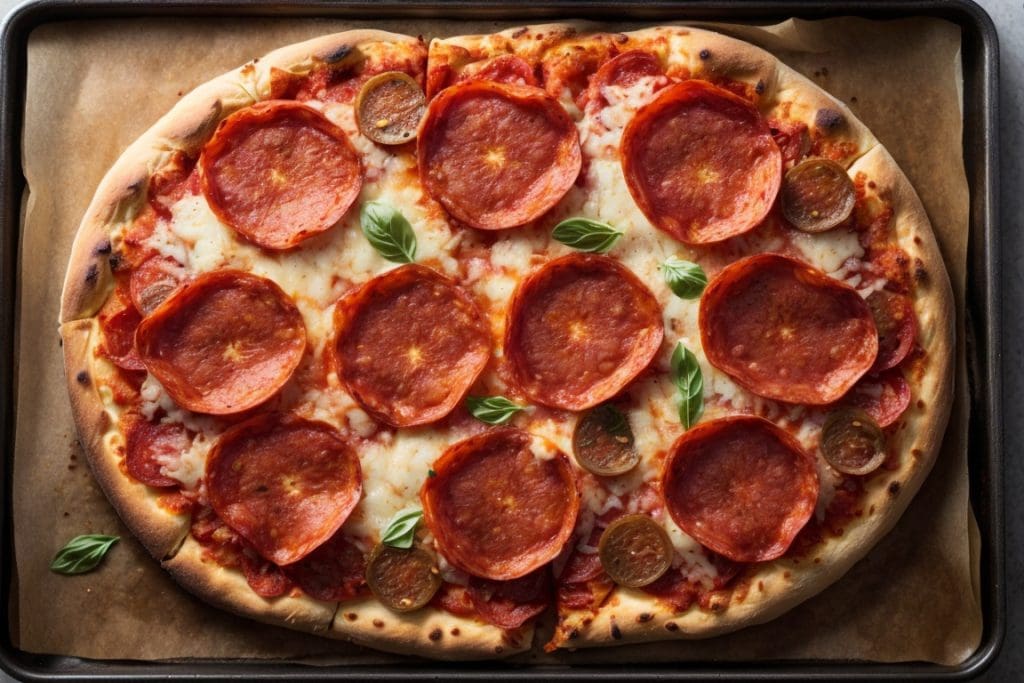 2. How the Emeril Air Fryer Works
The Emeril Air Fryer uses rapid air technology to achieve that crispy, fried texture in food with a fraction of the oil. Here's an inside look at how it works:
Air Frying Technology
A powerful heating element and fan circulate hot air around the food at high speed, like a convection oven. This allows the food to cook evenly and develop a crispy outer layer.
Temperature and Time Settings
The digital interface lets you precisely control the cooking temperature from 175°F to 400°F. Set the timer for up to 60 minutes for hands-free cooking.
Cooking Modes and Presets
In addition to manual settings, the Emeril Air Fryer offers convenient one-touch cooking presets for:
French fries
Chicken
Steak
Seafood
Baked goods
Roasted veggies
Reheating
Accessories and Attachments
The air fryer comes with useful accessories like a crisper tray, cooking tongs, rotisserie spit, skewers, dripping tray, and removable parts that are dishwasher safe.
Safety Features
For added peace of mind, the Emeril Air Fryer includes an automatic shut-off, cool-touch exterior, and overheating protection.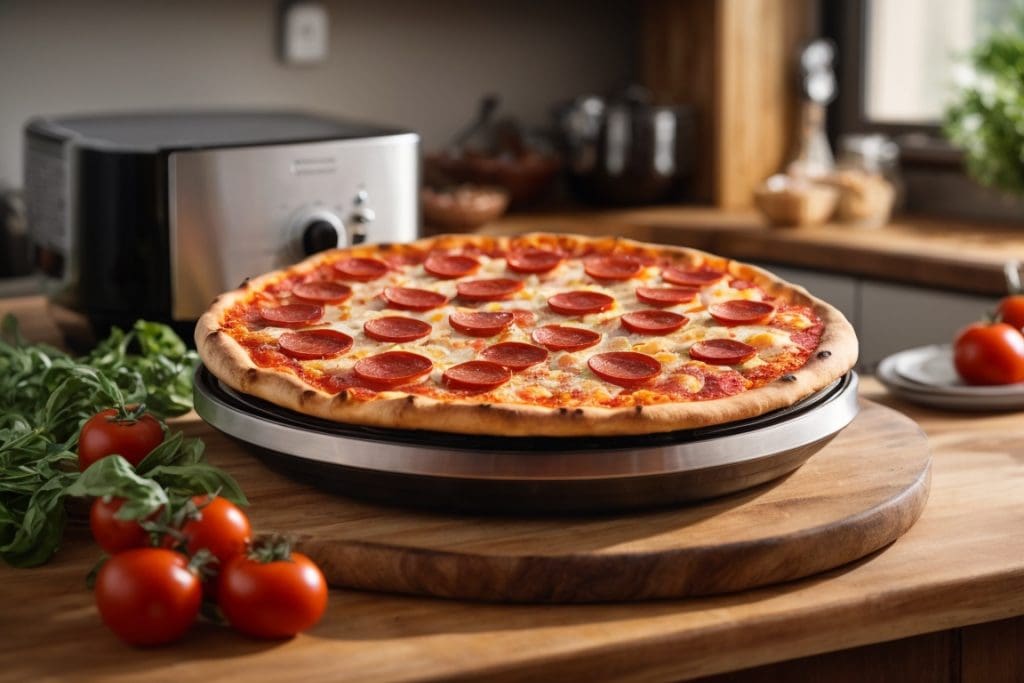 3. Cooking with the Emeril Air Fryer
The Emeril Air Fryer makes it quick and easy to cook a wide variety of tasty dishes. Here are some tips for making the most of this appliance:
Preparing Food for Air Frying
Cut ingredients into smaller uniform pieces to help them cook evenly.
Lightly oil or spray food with a small amount of oil for crispiness.
Shake or toss food midway during cooking for optimum crispness on all sides.
Cooking Times and Temperatures
Lean proteins like chicken or fish cook at 350°F for 8-12 minutes.
Fresh veggies are done at 375°F for 10-15 minutes.
Frozen foods may take 15-20 minutes at 400°F to heat through.
Using Oil in the Air Fryer
Use just 1-2 tsp of oil to lightly coat foods, avoiding excess pooling.
Olive oil, avocado oil, coconut oil, and vegetable oil work well.
Mist or spray oils work nicely for even distribution.
Cooking Various Types of Food
You can easily make just about anything in the Emeril air fryer, including:
French fries – Crispy on the outside, fluffy inside.
Chicken wings – Tender and juicy wings with crispy skin.
Fish fillets – Flaky textures without any heavy batter.
Brussel sprouts – Roast these to perfection.
Homemade pizza – Crisp crust without drying out the toppings.
Tips for Even Cooking
Allow the air fryer to preheat properly before adding food.
Cut food into uniform shapes and sizes.
Flip or shake items midway through cooking.
Avoid overcrowding the fryer basket.
Use a meat thermometer for baked goods and meats.
4. Emeril Air Fryer Recipes
One of the best things about the Emeril Air Fryer is the wide range of quick and easy recipes you can make in it. Here are some top dishes to try:
Appetizers and Snacks
Air fried pickles
Chicken nuggets
Mozzarella sticks
Potato wedges
Veggie chips
Main Dishes
Lemon pepper chicken breasts
Cajun fish tacos
Beef meatballs
Pizza
Turkey burgers
Side Dishes
Roasted broccoli
Sweet potato fries
Fried rice
Garlic Brussels sprouts
Baby back ribs
Desserts
Baked apples
Churros
Apple turnovers
Double chocolate brownies
Banana fritters
Healthy Options
Tofu cubes
Zucchini fries
Fruit crisps
Herb roasted carrots
Cauliflower wings
There are so many options for creative and tasty meals. Look for Emeril's own air fryer recipes online or in cookbooks for inspiration.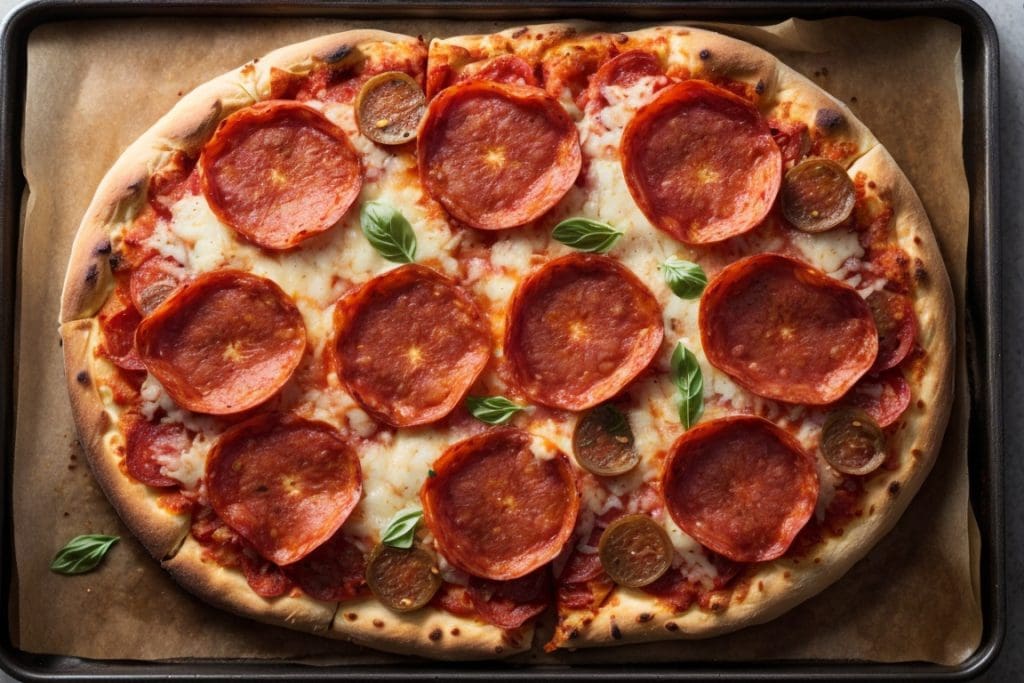 5. Cooking Pizza in the Emeril Air Fryer
One of the handiest uses for the Emeril Air Fryer is making quick pizza with a perfectly crispy crust. Here's how to do it right:
Preparing the Pizza
Use fresh or thawed frozen pizza dough.
Roll or stretch dough out to fit air fryer basket.
Top dough lightly with sauce, cheese, and favorite toppings.
Cooking Time and Temperature
Cook 6-inch pizzas around 350°F for 6-8 minutes.
Cook 12-inch pizzas around 325°F for 10-12 minutes.
Using Store-Bought Pizza
Follow package instructions for pre-made crusts or flatbreads.
Some pizzas may need flipped midway through cooking.
Making Homemade Pizza
The Emeril Air Fryer excels at making homemade pizza from scratch.
Use your favorite crust and sauce recipes.
Get creative with fun toppings!
Tips for a Crispy Crust
Preheat fryer properly before baking pizza.
Spray crust lightly with oil for extra crispness.
Don't overtop or the crust won't crisp fully.
6. Cooking French Fries in the Emeril Air Fryer
Crispy french fries are one of the most popular snacks to make in an air fryer. The Emeril Air Fryer can cook fries to perfection in just minutes.
Preparing the Potatoes
Use starchy russet potatoes for the best fries.
Cut potatoes into 1/4 to 1/2 inch thick fries.
Soak cut fries in cold water for at least 30 minutes to remove starch.
Pat fries thoroughly dry before air frying.
Cooking Time and Temperature
Cook at 400°F for 17-22 minutes, shaking basket halfway.
Thinner fries may cook faster than thicker ones.
Seasoning Options
Sprinkle fries with salt, pepper, paprika, garlic powder, onion powder, or cajun seasoning.
For spicy fries, use chili powder or cayenne pepper.
Tips for Crispy Fries
Don't overcrowd fries in the cooking basket.
Use a two-step method, cooking at a lower then higher temp.
Allow cooked fries to rest before salting for a crisper coating.
Healthier Alternatives
Use sweet potatoes or parsnips instead of white potatoes.
Coat fries in cornstarch instead of deep frying.
Omit salt and use healthier herbs and spices.
7. Emeril Air Fryer Troubleshooting
The Emeril Air Fryer is designed for reliability, but occasional issues can arise. Here are some troubleshooting tips:
Common Issues and Solutions
Food not crispy – Add a light oil, preheat properly, use higher temp
Overcooked food – Adjust time down, monitor cooking progress
Uneven cooking – Cut food same size, toss/flip during cooking
Basket won't slide in – Ensure tray is fully inserted
Dealing with Smoke
A small amount of smoke is normal when air frying. To minimize:
Avoid excess oil buildup in fryer
Cut dripping fatty foods before cooking
Lower temperature and cook meat in two stages
Noise Levels
The Emeril Air Fryer has a powerful fan so some noise is expected. Troubleshooting tips:
Ensure all parts are properly assembled
Don't operate empty or with unsecured accessories
Contact support if noise is excessive
Preheating the Air Fryer
If fryer won't preheat:
Confirm vent areas are not blocked
Reset by unplugging and restarting
Contact support if issue persists after resets
Customer Support Resources
Call the customer support line at 1-888-utilities-us for troubleshooting help
Check the product manual for technical guidance
Search the Emeril Air Fryer FAQ on the company's website
8. Emeril Air Fryer vs. Other Brands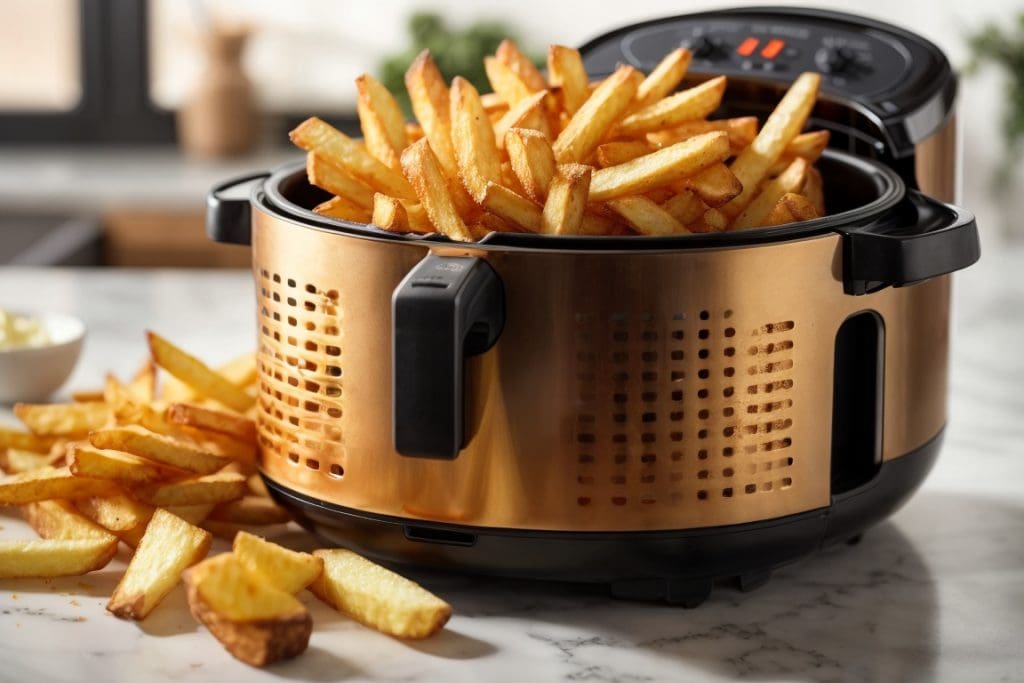 How does the Emeril Air Fryer compare to other major air fryer brands like Philips, Ninja, Cosori, Instant Pot, and NuWave? Here's an overview:
Comparing Features and Specifications
| Brand | Capacity | Temperature Range | Power Levels | Smart Programs |
| --- | --- | --- | --- | --- |
| Emeril | Up to 8 qt | 175°F – 400°F | Digital | Yes |
| Philips | Up to 5 qt | 175°F – 400°F | Digital | Yes |
| Ninja | Up to 8 qt | 105°F – 400°F | Digital | Yes |
| Cosori | Up to 5 qt | 170°F – 400°F | Digital | Yes |
| Instant Pot | 6 qt | 175°F – 400°F | Dial | Minimal |
| NuWave | Up to 26 qt | 100°F – 400°F | Analog | No |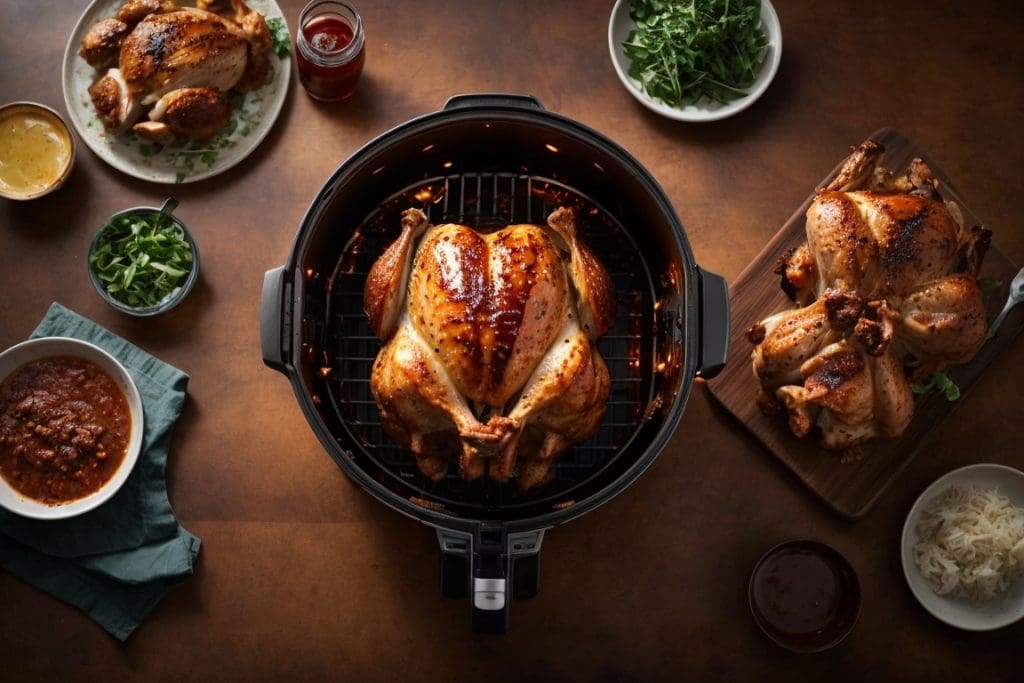 The Emeril Air Fryer is on par with top brands in terms of capacity, temperature range, and presets. The XL model offers one of the largest capacities available.
Price Differences
Emeril air fryers are competitively priced from $99-$249 depending on size and features. This is comparable to leading brands with similar specifications and capacity.
Performance and Cooking Results
In tests, the Emeril Air Fryer performed on par with top competitors in terms of achieving crispy "fried" texture with minimal oil. All are capable of producing delicious results across a variety of recipes.
Customer Reviews and Ratings
The Emeril Air Fryer earns consistently positive reviews and 4+ star ratings on average from verified buyers. Customers praise the fryer's value, performance, and ease of use. Issues with durability are less common for this brand.
Pros and Cons
Pros: reputable brand, affordable pricing, high capacity models, presets, rotisserie options, quality construction.
Cons: less smart features than some brands, limited to 60 minute timer in base models.
9. Baking in the Emeril Air Fryer
While the Emeril Air Fryer excels at crisping up fried items, it can also bake an impressive variety of foods. Here's how to get great baking results:
Suitable Baked Goods
Cookies, biscuits, scones
Fruit turnovers, hand pies
Whole cakes or cupcakes
Bread rolls, baguettes, flatbreads
Meatballs, fritters
Cooking Times and Temperatures
Most baked goods cook between 300°F and 350°F
Cookies take 6-12 minutes, while meats and breads may need 25+ minutes
Check items early and extend time if needed
Using Baking Accessories
Use the included rack to elevate items for air circulation
Cake and pizza pans fit nicely in fryer basket
Mist metal pans lightly with oil for easy release
Tips for Even Baking
Preheat fully before baking
Rotate items midway through cooking
Don't overfill the fryer basket
Let items rest before handling after baking
Creative Baking Ideas
Get creative with cakes, macarons, banana bread, brownies, granola bars, and more. The possibilities are endless!
10. Emeril Air Fryer as a Microwave
While the Emeril Air Fryer cannot technically replace all functions of a microwave, it can be used to quickly reheat and cook food in a pinch.
Microwave Functionality
Use the reheat function to quickly warm up leftovers
Cook oatmeal, scrambled eggs, and other items at a lower temp
The air fryer will not boil water or melt butter like a microwave
Cooking Times and Temperatures
Reheat meals at 300°F for 4-6 minutes
Cook fresh or frozen vegetables at 375°F for 8-12 minutes
Heat up plates of food for 1-2 minutes at 300°F
Pros and Cons
Pros:
Air fryer doesn't use radiation
Can crisp and brown foods better
Cons:
Slower than a microwave for some tasks
Can't boil water or melt butter
Safety Considerations
Use oven mitts to remove hot containers
Avoid heating up straight oils or liquids
Don't use for canned goods or sealed jars
Alternative Uses
The air fryer makes a great extra oven for:
Toasting bread or bagels
Crisping pizza leftovers
Warming tortillas or pitas
Making nachos
While not a full microwave replacement, the Emeril Air Fryer can be handy for many quick cooking tasks.
11. Using Aluminum Foil in the Emeril Air Fryer
Aluminum foil can be a useful cooking tool, but should be used carefully in the Emeril Air Fryer:
When to Use Aluminum Foil
Foil can help:
Shield delicate items from too much heat
Prevent excessive browning or burning
Facilitate even cooking of items layered or stacked
Safety Concerns
Improper use of foil may lead to:
Blocked airflow and poor cooking
Damage to heating element from contact
Melting and sticking foil residue
Tips for Using Foil
Use foil sparingly, avoid large sheets covering basket
Crumble foil into loose balls when shielding spots
Layer sheets between stacked items, don't wrap entirely
Alternative Options
Instead of foil, use:
The protective ring accessory
Oven-safe dishes or baking pans
Silicone cups or muffin liners
Cooking Results
Used Here is the continuation of the article:
12. Cooking Chicken in the Emeril Air Fryer
The Emeril Air Fryer allows you to make tender, juicy chicken with crispy skin easily.
Preparing the Chicken
Pat chicken dry and coat lightly with oil
Season with salt, pepper, herbs, or spice rubs
Cut larger pieces so they fit in fryer basket
Cooking Times and Temperatures
Boneless breasts – 350°F for 14-18 minutes
Boneless thighs – 375°F for 16-22 minutes
Chicken wings – 400°F for 12-15 minutes
Seasoning Options
Lemon pepper
Cajun seasoning
Jerk or barbecue dry rub
Italian herb blend
Chili lime seasoning
Tips for Juicy Chicken
Brine chicken first for added moisture
Spray with oil or broth midway through cooking
Don't overcook – use a meat thermometer
Cooking Whole Chickens and Parts
Roast small Cornish hens whole at 375°F for 30-40 minutes
Cook chicken quarters at 400°F for 20-25 minutes
Rotisserie larger whole chickens slowly on low
13. Cooking Steak in the Emeril Air Fryer
The high heat of the Emeril Air Fryer can produce steaks with a nice crusty exterior while keeping the interior tender and juicy.
Preparing the Steak
Pat steaks dry thoroughly before cooking
Lightly coat with oil on both sides
Season simply with salt and pepper or use a rub
Allow thicker steaks to sit out for 30 minutes before cooking
Cooking Times and Temperatures
1-inch strip, ribeye, or filet – 400°F for 7-10 minutes
Flank or skirt steak – 400°F for 8-12 minutes
Turn steaks halfway through cooking time
Seasoning Options
Cajun blackening spice
Chili lime dry rub
Rosemary garlic oil
Montreal steak seasoning
Spicy chipotle blend
Tips for a Perfect Steak
Preheat air fryer fully before adding steaks
Use a meat thermometer for your desired doneness
Let steaks rest 5 minutes before slicing to retain juices
Cooking Different Cuts of Steak
The air fryer works well for thinner cuts like skirt or flank steak. Thick ribeyes may be better seared on the stovetop first.
14. Cooking Rotisserie Chicken in the Emeril Air Fryer
The rotisserie function on select Emeril Air Fryer models allows you to make tender, flavorful rotisserie chicken at home.
Preparing the Chicken
Pat dry chicken and coat all over with oil
Truss chicken for stability during rotisserie
Season chicken under skin and on surface as desired
Skewer chicken securely onto rotisserie rod
Cooking Times and Temperatures
Whole chickens (3-5 lbs) at 350°F for 50-70 minutes
Cook 15-20 minutes per pound, checking internal temp
Seasoning Options
Lemon garlic herbs
Chili lime rub
Jerk seasoning
Cajun spice blend
Italian herb mix
Tips for a Juicy Rotisserie Chicken
Inject chicken with broth or marinate overnight
Baste chicken with pan drippings
Cook low and slow, avoid high heat
Carving and Serving
Let chicken rest 10 minutes before carving
Carve chicken into quarters, legs, wings, and breast meat
Serve with pan juices for added flavor
15. Emeril 360 XL Features
The Emeril 360 XL Air Fryer offers a larger capacity and bonus features that home cooks will appreciate.
Size and Capacity
8-quart basket capacity
Can accommodate a 5-pound chicken or 6 chicken breasts
Holds up to 2 pounds of fries or wings
Cooking Modes and Presets
Air fry, bake, roast, broil, reheat, dehydrate, rotisserie
Pizza, chicken, fish, and dessert presets
Accessories and Attachments
Comes with crisper tray, pizza rack, rotisserie spit and forks
Additional Emeril-branded accessories available
Price and Where to Buy
MSRP $249.99
Available at Amazon, Walmart, Target, Kohl's, Best Buy
Customer Reviews
4 out of 5 stars average rating from 500+ reviews
Praised for large capacity, versatility, and performance
The XL model expands the possibilities of the Emeril Air Fryer line with extra size and functions.
16. Cleaning the Emeril Air Fryer
To keep your Emeril Air Fryer running in top condition, follow these cleaning best practices:
Cleaning the Exterior
Wipe outer surfaces with a soft cloth and mild detergent
Avoid abrasive scouring pads or cleaners
Cleaning the Interior
Remove basket, tray, and accessories
Wash removable parts in hot soapy water
Clean inside fryer drawer with non-abrasive sponge
Removing Baked-On Grease
For stubborn grease, soak parts in warm water and dish soap first
Bar Keepers Friend cleaner can help tackle stuck-on grime
Cleaning Accessories and Attachments
Rotisserie spit and forks should be hand washed
Other accessories can go in the dishwasher
Tips for Maintaining the Air Fryer
Empty grease tray after each use
Don't submerge base in water
Dry all parts fully before re-assembling
Regular cleaning keeps the Emeril Air Fryer running smoothly for years.
17. Preheating the Emeril Air Fryer
Preheating is an important step to ensure even cooking results. Here are tips for preheating your Emeril Air Fryer:
When to Preheat
Preheat for:
French fries, chicken wings, fried foods
Baking cakes, cookies, breads
Pizza, lasagna, or dishes with cheese
Preheating Times and Temperatures
Most foods: 5 minutes at cooking temp
Breads: 10 minutes at baking temp
Large roasts or whole chickens: 10-15 minutes
How to Preheat
Select cooking temperature
Allow to preheat empty with basket in place
Add food once beeps signal preheating is complete
Benefits of Preheating
Food cooks faster, reducing overall cook time
Interior and exterior cook evenly
Food develops crisper crust or texture
Tips for Even Cooking
Don't overcrowd food during cooking
Open air fryer drawer midway to flip or rotate food
Add a few extra minutes to cooking time if needed
Preheating the Emeril Air Fryer takes just minutes but makes a big difference in your final results.
18. Using Magic Eraser on the Emeril Air Fryer
Magic Erasers are mildly abrasive cleaning sponges that can tackle some air fryer messes. However, use with caution on the Emeril Air Fryer's surfaces.
When to Use a Magic Eraser
Magic Erasers can help remove:
Grease buildup on crisper tray
Stubborn baked-on food debris
Stains on interior fryer drawer
Safety Concerns
Can scratch or damage appliance surfaces
Should not be used on heating elements
Can wear down non-stick coating over time
Tips for Using a Magic Eraser
Spot clean only very dirty areas
Use gentle pressure and minimal rubbing
Rinse surface after cleaning eraser residue
Alternative Cleaning Options
Instead of Magic Erasers try:
Baking soda and dish soap paste
Vinegar, lemon juice, or citrus degreasers
Dishwasher cleaning the removable parts
Magic Erasers can be useful for occasional stubborn grease but shouldn't replace regular cleaning methods.
19. Emeril Air Fryer Maintenance
Doing regular maintenance keeps your Emeril Air Fryer working efficiently for years.
Regular Cleaning
Wipe out grease drawer after each use
Wash all accessories thoroughly after cooking
Deep clean interior and parts 1-2 times per month
Checking for Wear and Tear
Inspect cooking basket for warping or damage
Ensure touchscreen and buttons function properly
Check that heating element is in good condition
Replacing Parts and Accessories
Order genuine replacement parts through the manufacturer
Crisper tray, rotisserie spit, and basket may need replacing over time
Troubleshooting Common Issues
Refer to troubleshooting tips in manual
Test different electrical outlets if appliance won't turn on
Contact customer service for diagnosis if needed
Tips for Extending Lifespan
Avoid overfilling cooking basket
Don't immerse base in water or cleaning solutions
Store air fryer with basket removed to retain spring function
Regular cleaning and maintenance is key to getting the most out of your Emeril Air Fryer.
20. Best Practices for Cleaning Inside the Emeril Air Fryer
Thorough, regular cleaning of the interior parts is essential for good performance and longevity.
Cleaning Tools and Materials
Dish soap, baking soda, vinegar
Soft non-abrasive sponges and cloths
Small non-metal brush for hard-to-reach spots
Cleaning the Heating Element
Gently wipe heating element to remove debris
Avoid soaking or submerging heating element
Removing Food Debris
Empty grease drawer after each use
Soak stuck-on food debris before scrubbing
Dislodge crumbs from crevices with brush
Tips for a Thorough Cleaning
Take apart all removable parts
Hand wash certain accessories instead of dishwasher
Dry all parts fully before reassembling
Maintaining a Clean Air Fryer
Wipe out grease drawer frequently
Clean thoroughly after cooking heavily greasy foods
Schedule a deep clean monthly
Following these best practices will keep the inside of your Emeril Air Fryer sparkling clean.