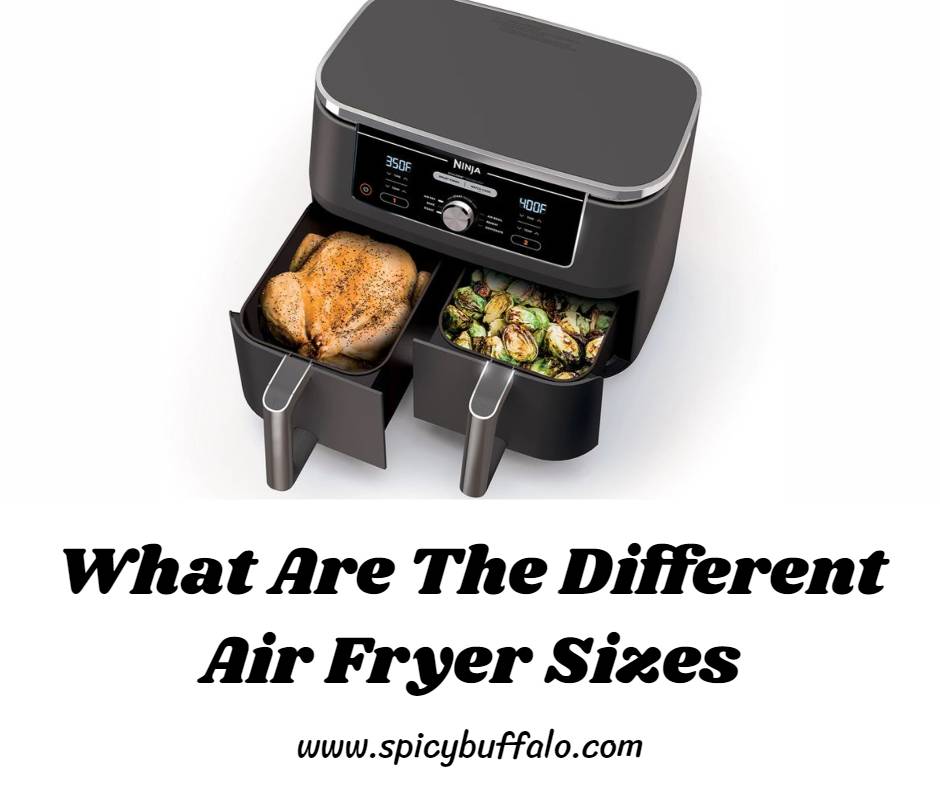 It's important to understand air fryer capacity, or size. Which one is right for you will depend on the size of your household and to some extent the amount of space in your kitchen. Capacity refers to the amount of space available inside for cooking. As for size, when purchasing a larger appliance like this, before sure to measure the space available on your countertop, including height, to make sure it fits.
Some air fryers are labeled in liters and others in quarts. Small air fryers can be one to three liters, medium ones about three to five liters, and large and XL models are normally six liters and up. Some of them are large enough to cook more than one type of food at a time. This is possible because the air fryer pan has a wall in the middle to separate the foods.
Air Fryer Benefits
By looking at the benefits of an air fryer you can determine if an air fryer is right for you. An air fryer is good for cooking food and snacks in an oil less deep fryer. This means you are using little to no oil, rather than the cups of oil required for a deep fryer.
It allows you to cook for couples or small households, or with larger air fryers, for a big family. If you are looking to cook food efficiently and more healthy, this is a great option. It also is a good option for kitchens without ovens or without large ovens. Foods can be baked and roasted in the air fryer as well. It's also a relatively easy way to cook with quick clean up.
Who Needs A Big Air Fryer
Not everyone needs a large air fryer. If you are a single or couple or want something smaller, check out our reviews of the best air fryers under $100. Most of our recommended large air fryers come in around $100 or more. With this increase in price is an increase is size as well as features.
If you have a large family or if you want to cook an entire meal at one time, a larger air fryer might be a good fit. Even if you only plan on cooking fried snacks in the fryer, a larger fry pan will prevent you from having to do multiple rounds in order to get everything cooked. You also might want to cook larger items, like whole chickens or even small turkeys (yes, that's possible!).
Also, think about the future. If you plan on entertaining more in the future, or plan to have a larger family, a bigger air fryer might be a good investment. An investment is what it is. You don't want to purchase a smaller air air fryer, realize it's too small, and end up replacing it shortly after.
What Is The Largest Capacity Air Fryer Size On The Market
The air fryers that are the largest are considered "air fryer ovens." This is an air fryer machine that is larger, shaped more like a toaster oven or convection oven. It combines oven functions along with the quicker cooking functionality of an air fryer.
These extra large air fryers can have a capacity of 10, 12, or even 16 quarts. They can include two or three racks as well as features for rotisserie, kebab skewers, pizza stones, and more. The goal here is to cook tender meat, that is crispy on the outside, for a large family. It also works well for entertaining.
What To Look For In The Best Air Fryer To Buy
It's impossible for us to recommend the absolute best large air fryer on the market. The choice really comes down to your needs and requirements to determine which is the best one for you. In addition to our reviews below, here are some of the features many of these models have. These are some of the factors to consider before choosing the best air fryer for you.
Manual vs. Digital Controls
Air fryers normally have either manual (analog) or digital controls. Manual controls involve buttons and knobs. Digital controls include LCD style controls. Many of the larger air fryers tend to have more digital controls whereas smaller, more simple models, might include more manual controls.
This is a point of preference for the user. Some people like the more contemporary look of the LCD screen. These screens can also be easier to clean because you don't need to clean around the knobs. The digital controls allow for more accuracy as well. That said, a manual control can be a lot easier to get used to and to figure out. It's sometimes more intuitive.
Temperature Range
All air fryers will include the ability to adjust the temperature based on what you are cooking. Normally, the temperature will range from 175 degrees to 400 degrees Fahrenheit, although lower and higher is possible. Often lower temperatures will be used to dehydrate fruits and vegetables. This is a pretty cool feature that you wouldn't normally find in smaller air fryers. If you find a recipe that requires a higher temperature, just set the time to cook a little longer and you will be fine.
Programmer And Timers
Many of the biggest capacity air fryers come with various settings to help you cook food efficiently. This can include programmed presets. This allows you to press a button for a type of food and the machine does the rest.
Many of these air fryers have timers. Often the timer is for only 30 minutes whereas others will include timers up to 60 minutes. Thirty minutes can be enough because many air fryers cook quickly and efficiently. In larger models, I recommend 60 minutes to ensure you have enough time to cook everything you want.
Rotating And Shaking Functions
Pro cooks recommend shaking the air fryer pan a few times during cooking to improve flavor. Some higher-end models will do this for you. They have an automatic rotator function to move the food around. This means you don't need to manually shake the basket. If it doesn't move the food for you, there might be an alarm to remind you to shake the basket once or twice during the cooking time.
Cleaning And Maintenance
As much as air fryers are easier to clean and maintain than deep fryers, they do still need to be cleaned. Look for non-stick baskets that make cleaning easy. Also, ensure the basket and air fryer pan are removable. Even better, look for ones that are dishwasher safe. Sometimes with a larger capacity air fryer it is better to hand clean because the baskets can take up a lot of space in the dishwasher.
Additional Features
Some of the larger capacity air fryers include additional features you don't find in smaller or cheaper versions. This includes coming with a rotisserie function or accessories that help you make pizza, like pizza stones. There might be a pause cooking button, preheating function, or a keep warm mode.
How big is a large capacity air fryer?
The average size for a large air fryer is between six and eight quarts. These are the best size for larger families or for people who like to entertain.
Who makes the biggest air fryer?
Big Boss is the biggest air fryer we found, at 16 quarts. It works a little different from other, more typical air fryers but with similar results.
How is an air fryer different from an oven?
An air fryer works in a similar way to an oven but moves the air around more quickly. The air is circulated better and provides for more even cooking at quicker times.
Is air fried food healthier?
Based on the fact that you are not cooking food in vegetable or other fatty oils, yes air fried food is healthier. The downside is that air fried food, especially french fries, doesn't always taste like the ones deep-fried. There is a reason for this, they are healthier. Unfortunately, they are a little bit bland. The air fryer helps to create a crunchier, crisper product. The results are similar to deep-fried food but without the unhealthy fats.
How big and popular is the air fryer?
The air fryer appliance is very popular in Asian cultures and has become more widely known here in America over the last few years.
How much does an air fryer cost?
All of our top picks include some degree of automatic features at a reasonable price point. They range from $50 all the way up to hundreds of dollars for the Proctor Silex that is our best pick pick . Check out other models referenced in our search results or on Amazon .
How long does an air fryer last?
As with any appliance, the lifespan of an air fryer is dependent upon a lot of factors. Sure, it's possible for a food to spoil in one hour but that's not normal. What we recommend is that you look up reviews on the product you are looking at to see how long people have used them and how they compared to others. Also, take note of what other people think about the products before you make your decision. Just be sure you aren't getting a lemon!
Air fryers are great for people who are on a budget or who want to avoid the guilt of deep-frying. However, air frying really does not produce the same results. There is something about food cooked with oil (even vegetable oil) that gives the food a richer, healthier taste. Even if you cannot afford to buy an air fryer, you can still purchase some cooking oil to use in your ovens or regular deep fryer. Doing so will lower your carbon footprint and your wallet, while also allowing you to enjoy eating healthy foods at home instead of grabbing unhealthy fast food.