The Best Large Capacity Air Fryers
10 min read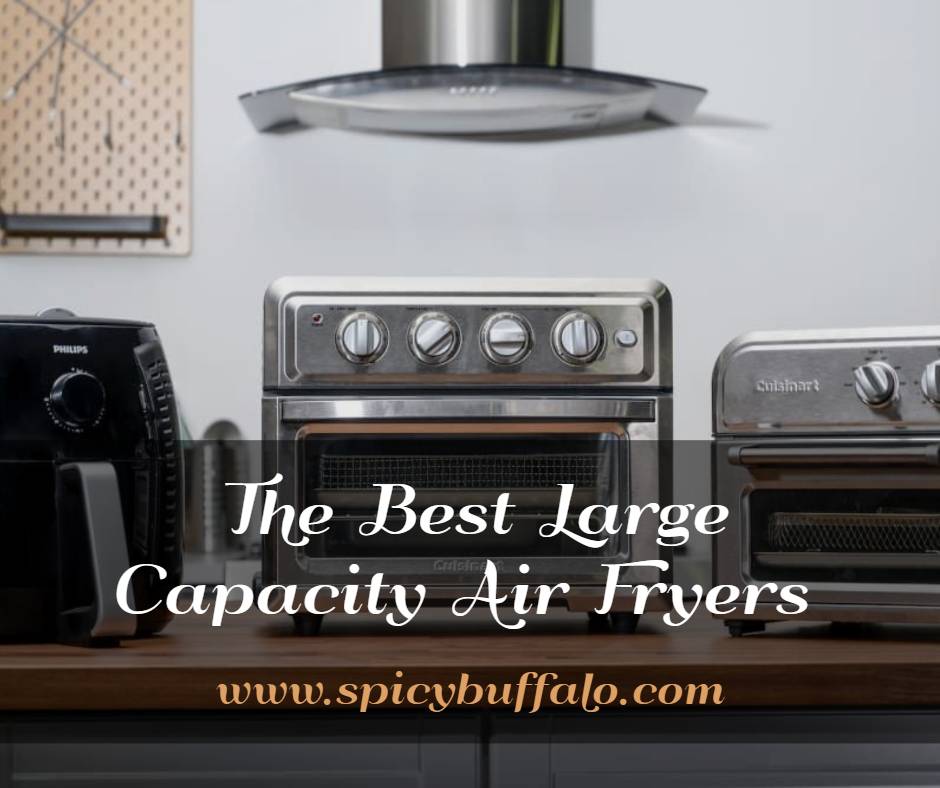 Are you looking for a healthier way to feed your family? Do they love fried foods, maybe a little too much? An air fryer might be the perfect new appliance for your home. In this post, we will share everything you need to know to purchase a good air fryer with a focus on larger versions. This includes reviews of the best large capacity air fryers and what to take into consideration before you buy.
Our Top Picks For The Best Large Air Fryer:
Ninja Foodi 6 in 1 Dual Zone 2 Basket Air Fryer
COSORI Electric Hot Air Fryer
GoWISE Deluxe Air Fryer Oven
Power AirFryer XL With Dehydrator
Best Large Air Fryer On The Market – 2021
In this case, size does matter. But, not all air fryers are made equal. You don't want to purchase the largest capacity air fryer you can find. Instead, it's best to balance the size of an air fryer along with all of the other features to be sure to pick the right one for you and your home.
We generally recommend purchasing an air fryer on Amazon for a couple of reasons. First, they have a wide variety of options in every size and at every price point. Second, we try to recommend products that are part of Amazon Prime, which provides purchasers with free and often super-fast delivery. (Get 30 days of Prime free here.)
We include the best air fryer reviews in full below, but if you are short on time, use this handy chart to find our recommendations. The chart below is organized by size, from smallest to largest.
What Is An Air Fryer
An air fryer essentially circulates super-hot air to cook food that results in a taste similar to foods that are deep fried. It's also possible to use an air fryer to roast, bake, and grill dishes making it a versatile kitchen appliance. An air fryer is not actually a fryer, not the same way as a deep fryer is.
I have to admit, if you are buying an air fryer to make french fries that taste as good as deep-fried french fries, you will probably end up disappointed. Instead, fries tend to taste better than baked, but not as good as fried.
But, aside from cooking fries in an air fryer, we use our air fryer for so many other things, including fried fish and chicken fingers. We also use it to roast vegetables, make beetroot chips, cook cheese burgers, make grilled cheese, and even reheat pizza better than ever. We use it probably 5 to 6 times a week and love it!
Large Air Fryer Pro Tip
What are some of the best uses for a larger air fryer? You can fry, bake, roast, and grill almost anything. This includes french fries, breaded meat or steak, even hamburgers, pastries, fried snacks, and even small turkeys. Most of the air fryers on this list include recipe books to help you find new ways to use your new air fryer.
Best Large Capacity Air Fryer Reviews
All of our air fryer reviews focus on some of the biggest capacity air fryers on the market. This includes some "normal" sized air fryers around the five and six-quart mark as well as larger models. For smaller or more budget models, check out our post on the Best Air Fryers Under $100. In that post, there are a variety of air fryers that are options for couples or smaller families.
NINJA FOODI DUAL ZONE AIR FRYER
We are big fans of Ninja products because they are often so innovative, and when I saw the Ninja Foodi 6 in 1 Dual Zone 2 Basket Air Fryer, I was sold! Even with a typical large air fryer, you can only cook one thing at a time, so this was revolutionary.
The Ninja Foodi Dual Zone Air Fryer has two 4 quart baskets that lets you cook two dishes, two different ways, at the same time. You can cook salmon on one side and broccoli on the other, or a cheese burger on one side and fries on the other.
The Ninja Dual Zone also has Smart Finish technology where it figures out how to cook two dishes so that they finish at the same time, a skill I still lack in the kitchen. There are 6 customizable programs, including air fry, air broil, roast, bake, reheat, and dehydrate making it super versatile too.
What this air fryer doesn't do is allow you to cook a big piece of meat at once because each side is slightly smaller than the larger capacity baskets of other air fryers. But, in the end, that doesn't bother me.
COSORI 5.8 QUART
The COSORI 5.8 Qt Hot Air Fryer is a good sized air fryer with a lot of features at a good price point. It's the one we currently own in Ireland.
The nonstick basket can cook a whole chicken. The basket has a little more cooking space available because it is square rather than round, like others. The capacity can feed a family up to five people. The basket is entirely removable and also dishwasher safe.
The digital control panel is ergonomically designed an dangled up for easier viewing. It includes 11 pre-set functions including bread and dessert. Just press the button for preheat functions and when ready press another button for what you are cooking, i.e. chicken, shrimp, etc. There is a shake reminder function. The temperature range is 175 to 400 degrees and it is 1700 watts.
This air fryer comes with a recipe book with 100 recipes and includes a two year warranty. We've actually used a mess o the recipes in the book, including for air fryer beetroot chips, kale chips, and stuffed mushrooms.
POWER AIRFRYER XL 6 QUART
The Power AirFryer XL 6 QT Power Air Fryer is one of the most versatile air fryers at this size.
Within the air fryer there are three air flow racks rather than a basket. It also comes with a series of accessories like 10 stainless steel skewers, a rotating mesh basket for fries, a rotisserie spit, a drip tray, and three recipe books. Because this air fryer can actually dehydrate as well as cook, one of the recipe books is specifically for dehydrating fruits and vegetables.
The digital screen interface includes eight presets. It cooks with 1700 watts up to 400 degrees. See more Power Air Fryer XL Reviews on Amazon, including smaller and larger versions of the Power AirFryer.
DASH 6 QUART
The Dash 6 Quart Electric Big Air Fryer mixes form and function with a very retro look. It comes in the cool aqua color as well as black, white, and red air fryer options. The Dash is one of the top rated air fryers on Amazon.
The Dash is a six quart capacity, which means it has plenty of space to cook for a family of four to six. It can even roast a chicken inside. There are manual rather than digital controls but there is an auto-off function to prevent overcooking. The temperature knob is on the top and the timer on the front. The temperature ranges from 175 to 400 degrees and it is 1700 watts making it pretty powerful.
The basket is dishwasher safe and has a cool touch handle. The entire air fryer includes cool touch housing making it so much safer than a deep fryer.
CHEFMAN 6.8 QUART
This Chefman 6.8 Quart Electric Air Fryer one of the larger models from the Chefman brand. Chefman one of the air fryer brands that offer a pretty good value for all of their models.
Most Chefman models include a flat basket design, which is why they are able to cook a higher capacity of food. The detachable basket has a cool touch on the outside. The basket is also dishwasher safe. They do warn no to soak the basket to prevent rust or two scrub it with abrasives.
It includes an adjustable temperature range between 175 and 400 degrees. With manual controls for temperature and time up to 60 minutes, it doesn't offer pre-sets or more accurate settings. But, it is still a good value for the price. There is an auto-shut off function. There is a one year warranty.
OMORC 7.6 QUART
The OMORC 7.6 Quart Digital Air Fryer is another healthy fryer option with a large capacity. Because OMORC uses a square basket, the capacity is larger without much larger of a footprint on the countertop. It can be used to cook for up to 10 people.
This air fryer can be used to fry, bake, roast, and grill. Some of the accessories included with this top air fryer include a cake pan and a metal rack to use the air fryer like a toaster oven.
There is a digital touch screen with up to 15 presets and cooking modes. This includes a keep warm function. There is an auto shutoff as well. It comes with a two year warranty as well.
What is the largest air fryer on the market?
The biggest air fryer available is the Cuisinart Air Fryer. Most people don't realize this appliance can be used to cook food on the stove. What you do is turn it so that it's facing down or away from you. Then set the temperature knob to whatever range you want to cook at, most of us use 180-350 degrees.
You then put in your food and let it finish cooking completely through. For example, if you want to make mashed potatoes, then put in a large quantity of the ingredients including broth or water, salt, pepper and butter. Allow it to boil and then allow it to simmer until soft.
Then spoon them into a mixer or food processor and mix until they reach the consistency you want. For soups you can do this easily in your air fryer. I also use my air fryer on the stove as an oven to do casseroles too.
What size is the Philips XXL air fryer?
The Philips XXL is an air fryer that can cook food for up to 15 people. It uses convection technology which means it cooks the food faster and better than traditional air fryers without being hot.
This is one of the best air fryers on a budget as it offers a ton of space for cooking. This is also one of the most expensive large capacity air fryers on the market so it offers a great quality at an affordable price.
What is the best air fryer over $200?
There are several air fryers that fall into this price range and they do not differ too much in functionality. Most of the more expensive brands offer more accessories. Two of the best air fryers above $200 are the DeLonghi and the Breville T-Fal. They're very similar in how they work and what accessories come with them. Both offer high quality and great customer ratings.
Best Air Fryer Under $100
The best air fryer under 100 dollars is not the same as the one on Amazon or Walmart. For this review, I'm only looking at the best air fryer under 100 dollars that comes with all of its own parts. Keep in mind there are a ton more great air fryers out there but these are what I consider to be the best buy for people who want an air fryer with a lot of extras included.
Which air fryer makes the crispiest food?
This is an interesting question because it's different for every person. If you are someone who has a fear of food being too burned or cooked, then you might prefer to purchase a fryer that cooks at lower temperatures. If you like your food extra crispy, then the air fryer that cooks at the upper end temperature range of 400 degrees will be your best bet.
Which air fryer is the most user friendly?
This will depend on your range of experience. Some people find an air fryer to be very intuitive while other find it difficult to use. I will say that most of the brands are fairly easy to use. They do have a few buttons on them that you might not be familiar with but if you watch some YouTube tutorials, then it shouldn't be too bad.
What size air fryer should you buy?
In most air fryer reviews, they will suggest that you go with the larger model. If you are cooking for more than just two people and want to cook a large amount of food, then I would definitely recommend going with a bigger model. However, if you are just cooking for one or two people and only want to brown food once in awhile, then the smaller models might be for you.
Is an air fryer really worth it?
Ultimately it depends on your lifestyle and what you like. If you enjoy eating fried foods but don't want to eat foods that are high in fat, then an air fryer is a great option. There are different levels of air fryers to choose from when you go to buy one.
I currently own a small air fryer and use it mostly for french fries and fish sticks since these are the only two things I like fried enough where I just feel like I want them deep fried.
I hope that you found out which was the best air fryer for you by reading this review! Keep in mind that different people have different needs so find something that fits your lifestyle and budget. As always, make sure you read the reviews on Amazon or wherever you buy from to see what customers are saying about their air fryers. I'd also suggest purchasing from Amazon.com as they usually have the best deals.