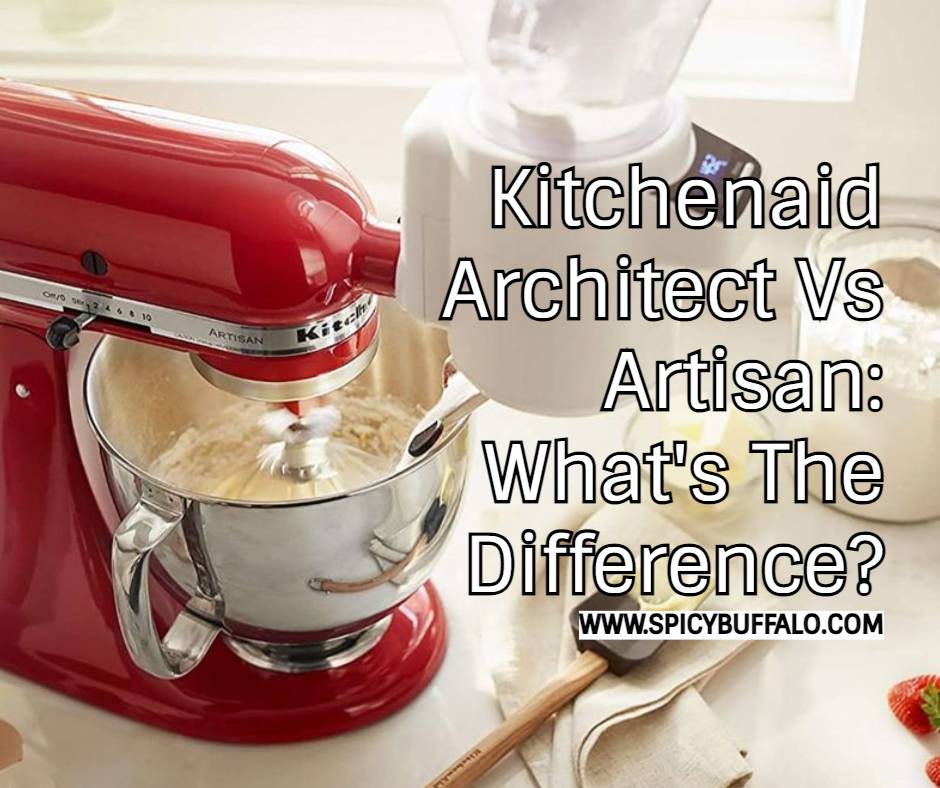 When you're shopping for a new stand mixer, it can be hard to figure out the difference between Kitchenaid Architect and Kitchenaid Artisan. It doesn't help that both mixers are designed to perform many of the same tasks: kneading bread dough and crushing ice, to name just two. So how do you know which mixer is right for you?
Design
Once you look past the fact that both mixers are white, the differences between the Kitchenaid Artisan and Kitchenaid Architect become clear. The Artisan – while still a very attractive mixer – has been around since 1956, and because of its age, it's become more classic looking. The bowl is not as large as the one on the newer Kitchenaid Architect model, and it can hold 5 quarts only versus 6.5 quarts for its younger sibling.
The Kitchenaid Architect has certain aesthetic advantages. While it doesn't have the retro look of its Artisan brother, it has a modern style that fits well with more contemporary kitchens. The Kitchenaid Architect comes in either a white or black design, and it has three power settings (versus two for the Artisan).
Ease of use
The Kitchenaid Artisan has a simple design that makes it easy to operate. The bowl snaps on to the base and is secured by the locking mechanism on its side. Once you've started mixing, you can adjust or remove the bowl without unplugging anything, which makes adding ingredients quick and easy.
The Kitchenaid Architect is also simple to use, but it has a few more steps involved. This mixer is fitted with a cord lock that keeps the power cord in place while you're using it. It also has a tilt head, which means you can easily add ingredients while the mixer is running.
Power and Warranty
The Kitchenaid Artisan and Kitchenaid Architect both give you plenty of power to get all your mixing jobs done. The Artisan comes equipped with three different speed settings, while the Artisan comes with five speeds (either 325 watts at 5 pulses per second or 250 watts at 10 pulses per second). Both mixers come with an average warranty of five years.
All things considered, both mixers are great, but the Kitchenaid Architect has a few advantages over its younger sibling. Its larger bowl and three power settings give it a slight edge. If you're looking for a mixer that will last you a long time, the Kitchenaid Architect is a great choice.
As you can see, you can get an Elegant white mixer with a classic look and many conveniences such as cord control – that only goes up to 650 so you need it to go up to 2.5-3k if using the upright models – with more power than any other model in its class (900 vs 800) at a much lower price than similar models from KitchenAid and Viking Pro.
In this post, we break down the features of each model and identify their best uses so you can make a more informed decision on which mixer is best for your needs.
As you can see above, the Artisan has a few more features than its younger brother. The Artisan has an automatic shutoff as well as a 2-year warranty, while the Architect comes with a standard 5-year warranty.
One benefit to having the extra options is that you can use your mixer for a variety of tasks and not worry about it breaking down as quickly. A cord lock is also convenient when you have to stop mid-way through adding ingredients. The tilt head makes adding ingredients to the bowl very easy, which is also convenient for making quick additions.
The KitchenAid Architect model has a few things going for it that make it stand out from the Artisan. It comes in white as well as black, and it has three different speed settings – 5 pulse and 10 pulse – instead of the two settings of its older sibling. The bigger bowl makes this a great mixer to have on hand if you plan on baking breads such as pizza dough.
Most reviewers enjoy using their Kitchenaid Architect stand mixer, although there are some that feel that the extra features on the Artisan are unnecessary. The KitchenAid Artisan has more than enough power to do most of the basic mixing jobs, and you won't miss the extra settings.
If you don't need a mixer that can knead bread dough, you might not find the extra set speeds on the Architect necessary. Many reviewers are satisfied with the one speed setting of their Artisan, which is great for cake batter or cookie dough. If you prefer to have more speeds at your disposal, however, then the KitchenAid Architect is a good choice for you.
The Kitchenaid Artisan vs Architect debate will never be completely resolved. At the end of the day, there are some jobs that one mixer can do and another can't. But for simpler tasks, you might want a basic stand mixer that produces great results without breaking the bank. For those applications, our vote goes to Kitchenaid Artisan.
First and foremost, both models are capable of making dough in a variety of consistencies from pasty to stiff; however, when it comes to kneading bread doughs and crushing ice, Artisan does a better job. One of the biggest complaints about Kitchenaid Architect is that it stalls when kneading bread dough, requiring the user to remove the attachments and stir everything manually. Unless you plan to make bread on a regular basis, this problem shouldn't sway your decision.
The real difference between Artisan and Architect has more to do with their capabilities as food processors. While both models are capable of making applesauce and puréeing soup, Artisan is able to do it much faster because of its larger 4-cup work bowl (vs 3-cups for the Architect). As a result, you might be able to purée all the ingredients for your smoothie in a single batch (using less room in your refrigerator), all while making multiple batches of soup at the same time.
Artisan does have one advantage over Architect when it comes to making pastry doughs: it's able to form the dough into a log shape for easy slicing (useful for making pies, quiche and even individual pastries). Architect doesn't offer this functionality. But if you don't do much pie-making and don't mind manually forming the dough, Architect might work just fine for you.
Both models come with three attachments for slicing, shredding and mixing. The slicing attachments for each mixer are similar in performance, but Artisan's shredding attachment is more powerful than Architect's. This means it can handle tougher vegetables like sweet potatoes and broccoli stems without stalling. For most vegetables, though, you won't notice a difference between the two mixers. Of course, if you prefer to have more power on hand all the time, go with Kitchenaid Artisan.
As far as quality goes, both models have a similar feel when using them on the countertop. Although Artisan is 4 pounds heavier than Architect, it's not a significant weight difference that will make a real difference in your hand.
Photo: Both mixers have a similar design with attachments stored on the side, and the power hub easily removable for cleaning. Photo Credit: Kitchenaid .
Lastly, because both models are made by Kitchenaid, you can rest assured that you'll have support by way of customer service. However, Kitchenaid does offer a 5-year warranty for Artisan and just 2 years for Architect (typical warranties are 1 year). So if you're planning to use your stand mixer all day every day, we recommend spending the extra money on Artisan.
KitchenAid Artisan vs Kitchenaid Architect: What's The Difference?
Ease of Use – Artisan and Architect are similar in terms of ease of use. However, we recommend going with Artisan over Architect for its better performance in the bakery and food processor categories (where extra power is important).
Power – We recommend going with Artisan over Architect for the power it offers when it comes to snacking on apples, crushing ice, making pies, and whipping cream. Its 4-cup work bowl is also more suited for tasks like making soup or making multiple batches of desserts at the same time.
Durability & Warranty – Both mixers are made by Kitchenaid, so you can expect the same level of customer service when it comes to fixing issues that may arise. However, we recommend going with Artisan over Architect for its 5-year warranty (vs 2-years) and higher overall quality.
The Verdict: Kitchenaid Artisan vs Architect: What's The Difference?
Overall, both models are great choices if you're looking for a starter stand mixer that can handle your basic needs. However, if you plan to do a lot of food prep or bread making, going with the Kitchenaid Artisan is probably worth the extra money. Kitchenaid Artisan does a better job at most of the tasks it's designed for, with the exception of bread making. However, if you plan to do a lot of bread-making, you might be happier with just a high-performance blender (since it will be much faster at creating dough).
Is KitchenAid discontinuing the Artisan Series?
From what we can tell, KitchenAid's recent redesign of the Artisan stand mixer isn't a sign that they are discontinuing this line. At the moment, there is no indication that the Artisan will be discontinued or replaced by another model.
In fact, KitchenAid has said that their new lineup of stand mixers is designed to complement each other (the old Artisian was designed to be an all-purpose model and suited both beginners and experts). Therefore, we don't see why they would create a new mixers in keeping with that philosophy if they had any plans to discontinue the current one.
We only see this new mixers design change being more of a useful addition to KitchenAid's existing line rather than a sign that they are removing the Artisan model.
However, if you have any doubts, you might want to contact them before making a decision. We know it seems ridiculous that you should be worried about an appliance that costs less than $100, but stand mixers are so delicate and important in many kitchens (both professional and casual) that it's best to do any research before purchasing them.
What is the difference between the classic and artisanal Kitchen Aid mixer?
The classic KitchenAid handheld mixer is the most basic, and offers a choice of speeds. This model also has a detachable dough hook, which can be removed and used on another setting. The artisanal Kitchen Aid mixer is more modern and offers a choice of two speeds, as well as pulse. It also has a non-detachable dough hook and motor brake – so if you want to remove the hook and/or motor brake for other tasks, you will need to disassemble this model.
Is there any way I can clean my KitchenAid without removing all parts?
Some models have removable parts, like the kneading blades or whip attachment. If this is the case, simply remove the blade and whip attachment and then clean as you would any other piece of kitchen equipment. If however you are looking to clean your mixer without removing all parts, you will need to disassemble.
How do I clean my KitchenAid attachments?
As all appliances have special parts and cleaners that different, we urge people against washing their attachments with dishwashing detergent or scouring pads as these may damage them. It is a good idea to soak your attachments in warm soapy water and then rinse them well before re-assembling your mixer.
Do I need to change the blade or whip on my KitchenAid?
There are two main attachments (the blade and the whip) that come with all Kitchenaid mixers, and these will last for many years. As a simple rule of thumb we advise against replacing either until the mixer is showing signs of wear, and it also goes without saying that you should not attempt to replace an attachment yourself previously damaged! Many people have replaced these attachments themselves and there have been instances where this has caused damage to the motor itself leading to breakdown.
What are the different levels of KitchenAid mixers?
Are there different levels of KitchenAid mixers? For example, are there any differences between a Classic model, and the Professional model?
The difference between the models is often unclear as it's more a question of your needs rather than just a difference between two completely different models. The Classic model is the most basic version of its type. It offers only two speed settings and this can be the one to get if you are going to be using your machine for light mixing only. If you want more control over how your ingredients are mixed, then consider upgrading to the Professional or Artisan series.
What is the difference between Artisan and heavy duty KitchenAid?
In terms of the power of the KitchenAid mixer, there is no difference between these two models. Any difference is likely to be down to what attachments you want to use with your machine. If you plan on using thick dough and large quantities of food regularly, then you may want to invest in the more powerful model. However, if you are only planning on using a few small ingredients from time-to-time, then consider saving some cash by going for one of the basic models.
CONCLUSION:
The current Artisan series combines a wide range of features and designs, but does not replace the general purpose Classic model. It is more a stand mixer for those who want more control over their mixer, such as bread makers, cheesemakers and pastry chefs. Don't forget to check out the Artisan's attachments as you will get more functionality for your money! If you are unfamiliar with Kitchenaid brand products, we recommend having at least two hand mixers – one heavy duty and one lightweight – in your kitchen. This way you will have models to choose from when mixing something light or mixing something bigger.