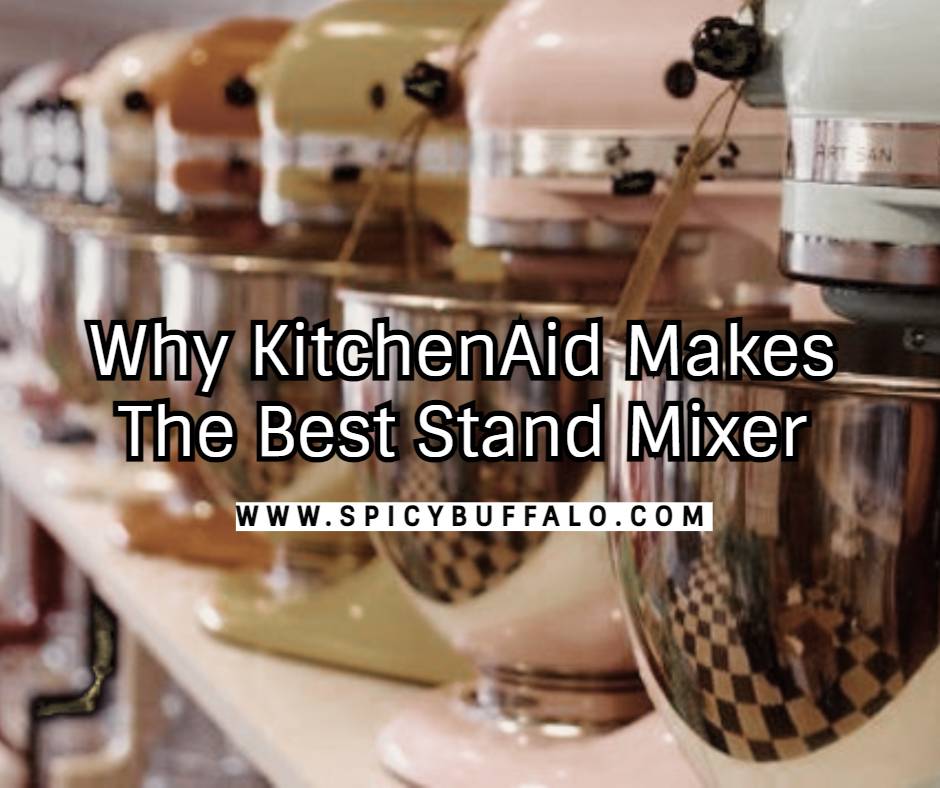 KitchenAid sells a full series of stand mixers — all with different pricing, features and mixing capacities, though all with the same type of utility. The KitchenAid philosophy is, "If it works, don't change it," which shows in their approach to design.
It is interesting to note that their highest rated stand mixer (4.9 out of 5 stars from 5,600+ reviews) — the Artisan Series 5-Quart Tilt-Head — is not their most expensive. This also shows the ethos of simplicity over flashy technology that KitchenAid employs in their product designs, which many consumers obviously appreciate.
Below, we outline the many ways in which KitchenAid dominates the stand mixer market.
1. Types of Mixers
KitchenAid matches simplicity with variety but doesn't feel the need to modify a fundamental stand mixer design concept that works. Small differences exist, such as mixing bowl capacity and functionality, but no matter the unit, you still get a basic, high-quality stand mixer with KitchenAid. The two basic stand mixer types are "bowl-lift" and "tilt-head", though there are several different series with important distinctions.
The KitchenAid Lineup:
Architect Series
Artisan Design Series
Artisan Series
Classic Series
Custom Metallic Series
Professional 600 Series
Professional Heavy-Duty Series
Ultra Power Series
2. Features & Benefits of KitchenAid Mixers
KitchenAid mixers are renowned for their versatility and dependability. They allow for easy culinary creations utilizing doughs, batters, mixes, and even ice cream and homemade pasta, for high-quality dishes of all types. The power hubs for optional accessories are a noteworthy addition, allowing your mixer to become an all-in-one electronic chef.
KitchenAid mixers are for those who want the simple, classic look and feel of a mixer, but with modern versatility. You can choose from many options, depending on what type of performance you expect from your mixer. Bowl capacities range from 4.5 quarts up to 7 full quarts of mixing volume, and there is a huge range of colors to choose from. Stand mixers feature 10 speeds and 12 available attachments. Beater types include burnished and coated beaters, for specific mixing needs.
Those who excel in the kitchen can take their culinary ambitions a lot further with a KitchenAid mixer. KitchenAid appears to go much further than most kitchen appliance manufacturers in giving their customers original cooking ideas along with the reliable hardware.
Trusted Name-Brand Quality
From the many thousands of 4- to 5-star reviews on the Web, it's obvious that KitchenAid has attained the brand recognition and trust they so deserve. It's a brand-name company that goes back to 1919, when their signature stand mixer was born.
For nearly a century, KitchenAid has prided itself on being the sole appliance company making products only for the kitchen. As such, they have been able to focus their niche marketing on the hearts of homes and family chefs everywhere.
The Benefits of Owning a KitchenAid Mixer
Here are the top six reasons that you will benefit from owning a KitchenAid mixer:
For about the price of an iPad (or less), you can own a kitchen appliance that has many features, lots of versatility, and will last through years of great cooking experiences.
KitchenAid virtually invented the term "user-friendly" as it pertains to kitchen appliances. This is where simplicity meets high-utility.
They sell everywhere — online and in bricks-and-mortar stores — which can keep costs relatively low.
Top-notch service plans and customer support are part of why KitchenAid has been in business nearly 100 years.
Full-service product assistance adds more accessibility for the owner of the product.
As a countertop appliance, the stand mixer is a space-saving and affordable choice that will look good in your kitchen.
3. Cost vs. Value
In your search for the perfect KitchenAid mixer, you must weigh many variables, not the least of which is the price. The overall value of KitchenAid mixers is, one could say, cost-indicative, rather than cost-prohibitive. This means that it's because it has been such a trusted brand name for nearly 100 years, with some of the highest customer ratings for any product sold online, that the pricing of their mixer product line remains so affordable. This is a good example of a highly valued, highly rated product being accessible to virtually any home chef, as well as the professional chefs, bakers and foodies who have invested in a KitchenAid appliance.
A Cost vs. Value Comparison
When researching the best stand mixers, KitchenAid products come up at the top. On a site featuring Top 10 Best 2016 Reviews for mixers, several other brand names are very price-competitive, such as Hamilton Beach, Oster, Kenmore, Breville, Sunbeam and Cuisinart.
But it is KitchenAid that received the gold award out of all the competing mixers — even though it cost $124 more than the next most expensive brand, Cuisinart. This shows that quality and value of a versatile, dependable machine wins the day over a low price.
4. Ratings and Reviews
When rating mixers, you must consider the specific guidelines and criteria that have become standard in judging. This includes performance, convenience, various specifications, accessories/attachments, and warranties and support.
The KitchenAid Artisan stand mixer scores highest in each of these categories on Top 10 Reviews. Good Housekeeping also put the Artisan Series Stand Mixer at the top of its list. They rave about it, noting KitchenAid mixers' availability in 25 colors and a host of other pros.
The "cons" list is very short: it mentions only that it may splatter on high speed, that the whisk needs to be hand-washed, and that the mixer has some hard-to-clean crevices.
The Pros & Cons:
On the long laundry list of "pros" for the Artisan Series Stand Mixer, accolades include:
"Excellent" manual that includes recipes
Top performance for all mixing tasks
High-capacity mixing bowl
Bowl has ergonomic handle for ease of use
Upright head locks into position
Easy-to-read speed settings, which click into place
Dishwasher-safe bowl, beater and dough hook
Food-making accessories such as blender, pasta maker and grinder attach to power hub
The only other conceivable "con" is perhaps the price, but, as mentioned above, that is a non-issue for KitchenAid devotees.
5. Variety and Customization
You can find tons of videos on the Web talking about the quality and various elements of KitchenAid mixers. Some compare between the different KitchenAid models, since, to many, there's no conceivable comparison with other brands.
Many of them break down and examine closely the various attributes of the KitchenAid mixers, basically doing on-camera what this article is doing for you now. Some show you how to make certain recipes, others show you how to operate the mixers, and still others go over the various accessories and attachments and how to use them. KitchenAid mixers are definitely ready for their close-up!
Many Sizes Fit All
One of the most attractive features of these mixers is that your mixing bowl capacity can range from 4.5 quarts up to 8 quarts with a J-Hook handle bowl accessory. This brand has truly covered the home chef spectrum by featuring such a wide spectrum of mixing bowl sizes. This covers everyone from the beginning dabbler up to the serious baker with high-capacity needs.
Accessories and Attachments
Stand mixer accessories and attachments offer home chefs a full complement of helping hands, including:
Precise Heat Mixing Bowl
Food Processor Attachment Kit
3-Part Mixer Attachment Pack
8-Quart Stainless Steel Mixing Bowl with J-Hook Handle
5-Quart Tilt-Head Glass Bowls with Measurement Markings and Lids
Elliptical Whips, Dough Hooks and Pasta Drying Racks
Grain Mill, Food Grinder, Pasta Excellence Kit and much more!
The many accessories available for KitchenAid mixer products allow users to create an expansive and versatile range of cooking options. From cookies and ice cream to cakes, blended treats and pasta — with the additional accessory options KitchenAid provides to its customers, your stand mixer can be turned into a hub of gourmet culinary creation suitable for professionals and laypersons alike. For well under a thousand dollars, your KitchenAid mixer is a professional, restaurant-quality kitchen prep cooking center.
In Conclusion
KitchenAid stand mixers and their many accessories and attachments are extremely easy to buy, have shipped to your doorstep, put together, and start cooking. The evidence is in, and the testimonials of many thousands prove that KitchenAid mixers offer home and professional chefs alike the soundest, most versatile way to get prep cooking done. Make ice cream, sorbets, bread, omelet mix, pasta, cake batter, and confections and mixes of all kinds, and do it quick and easy with KitchenAid. They even provide you with a recipe book in the user's manual, and with the variable, 10-speed functionality, you can mix any ingredients necessary while adhering closely to recipe guidelines.
Invented in 1919, the KitchenAid Stand Mixer is a true classic, and it has needed very few alterations since that time. They come in a full range of attractive colors and finishes and possess an accessibility that anyone can handle. From the young, eager chefs to the old-timers who want quality unchanged and untainted by trendiness and technological fashion, these mixers are imbued with a talent for pleasing the majority of food lovers, prep cooks and home chefs. This wide appeal is what helps make KitchenAid mixers the standout among other mixing appliances.
Filed Under: Appliances, Buyer's Guides, Cooking Tagged With: appliances, buyers guide, food processor, home, home-living, kitchen, kitchen appliances, kitchen electrics, kitchenaid, mixers, small kitchen appliance, stand mixers.
What is the difference between KitchenAid Artisan and custom?
KitchenAid Artisan series stand mixers in a few words are the standard models of KitchenAid's range. They have all the same attributes as the artisan series stand mixers, but they are a little bit cheaper and lack some of the bells and whistles of their expensive siblings. Custom series is simply an artisan model that has selected features added to it by KitchenAid.
The KitchenAid Artisian Series Mixer is extremely versatile, having such attachments as grinder, pasta maker and food processor. It also has several color schemes to choose from and each one comes in different price ranges. Some come in chrome with black trim with a high price tag of about $500–600 for all-chrome machines. Some others come with a red, white and blue color scheme with a lower price tag of about $400-450. If you don't want to spend that much money on your mixer, you should look into the Custom Series models which are the same as the Artisan Series except they are customized to your liking.
Is KitchenAid discontinuing the Artisan Series?
No. However, KitchenAid has many models of mixer and the only difference is that one is not cheaper than the other, so it is usually more expensive. The KitchenAid Artisan series has been around for a long time and there are many loyal users who would not want to switch to another brand. Also no one will know as of now if they will keep the classic and traditional artisans series or make a way for the custom series.
The primary benefit of the Artisan series is that they are more affordable and you won't need to spend as much if you use it once a week or month. Also unlike the custom series, you do not have to go through a service contract and it comes with a one-year warranty. Of course, on the other hand, there are many users who think that the artisan models are not as good as the custom series. However, if you compare them at cost, only then will you find out which one is more beneficial!
What's the difference between the classic and the Artisan KitchenAid?
The only real difference between the classic and the Artisan KitchenAid is that the Artisan KitchenAid has a smaller bowl, which can handle about 6 cups, while the classic can handle up to 12 cups. That's really the only difference in terms of capacity but that also makes a big difference in what you can mix or make.
The price difference is also one of the main differences. If you were to look at them side by side, they both have a stainless steel bowl, but you're going to find that with the classic series it actually comes with a plastic bowl and not a stainless steel one.
Which KitchenAid mixer is the best to buy?
If you are looking at getting a KitchenAid stand mixer and don't want to spend hundreds of dollars on it, then the KitchenAid Artisan series is probably the way to go. The reason for this is that it does exactly what you need it to do and does it well. If you want a mixer that is going to help you make delicious cakes, cookies or cakes, then the KitchenAid Artisan series is the way to go. Mixers like this one serve many purposes and make it very easy for people to mix different things.
Are KitchenAid refurbished models any good?
KitchenAid Artisan Series stand mixers are some of their best selling mixers and it would be a shame to buy a brand new one and get a really bad deal. There are quite a few models like the DJX350BL or the DJX350WBL with red colored trim that have remarkable performance for their low price tag. Also, the DJX750BL and the DJX750WBL are not just pretty colors but are also great mixers that have some amazing features to offer.
Remember that KitchenAid stand mixers are going to become more and more popular with time because they offer so much. For example, you can use them to make cookies, cake batter, hard cheese, pasta dough or banana bread. You can also use it to knead or whip up doughs of all sorts. The KitchenAid Artisan series is a wonderful mixer that is a perfect addition for anyone's kitchen and will make life easier for them.
CONCLUSION:
These are the most common mixing appliances that we have all come across so many times through our life. While each has its own individual pros and cons, and it's really wise to choose a model based on your own needs, there is no denying that KitchenAid mixers can provide you with excellent performance and allow you to take your culinary skills a notch higher. If you want the best quality stand mixer then this is what you should look for.