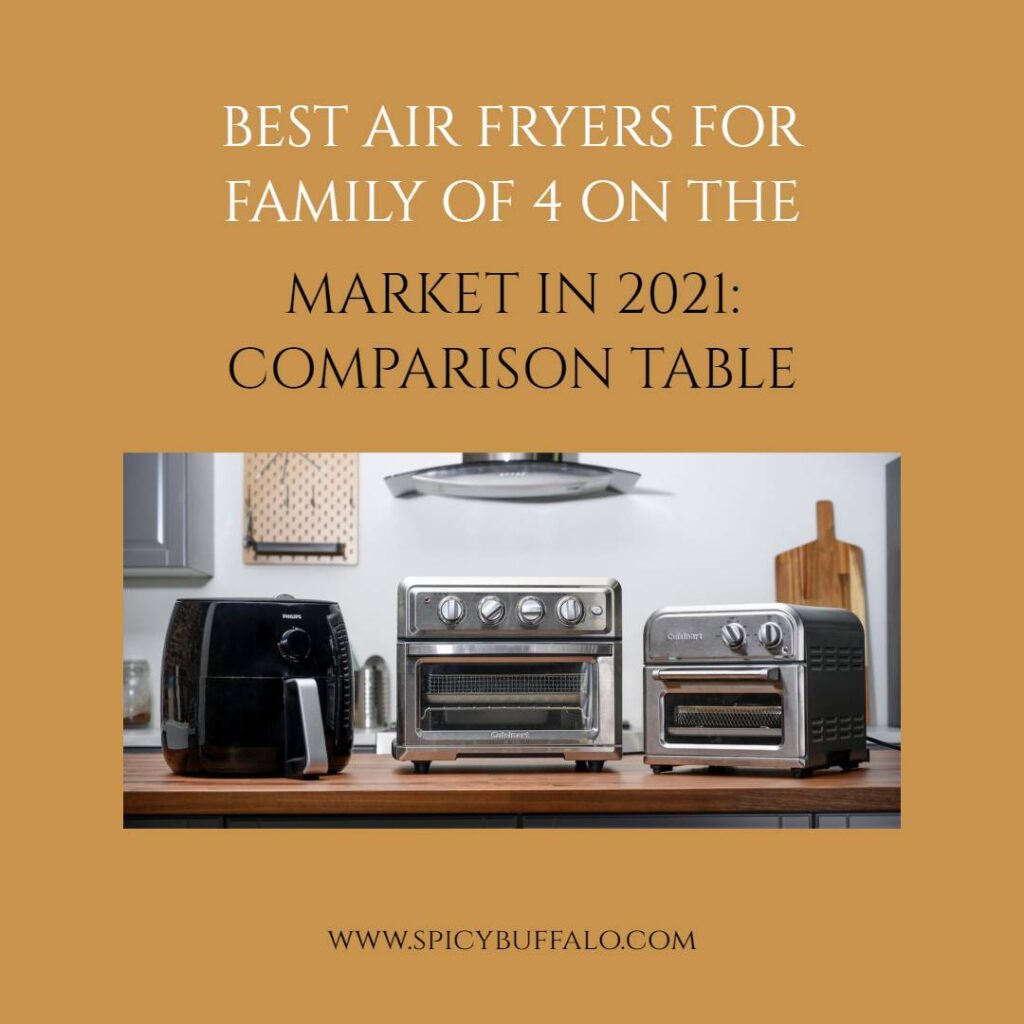 What is the best air fryer for a family of 4:
The first thing to consider is cooking capacity. When it comes to a four-member-family, a 4-quart or a 5-quart air fryer would be an ideal choice. Secondly, you will need to choose between a basket-style air fryer and an oven-front air fryer.
The latter has a larger capacity and more options, such as food dehydrating. The basket-style models have the advantage of being more compact and eco-friendly. Other things to look out for include extra options such as adjustable temperature range and accessories like a skewer rack, dedicated pans for pizza and muffins.
Ninja Foodi 9-in-1 Pressure, Slow Cooker
The Ninja brand offers a line of air fryers with a capacity ranging from 5 to 8 quarts. It cooks 70% faster and with 75% less fat. The 9-in-1unit has crisping and pressure lids, a 6.5-quart pot, a 4-quart basket, and a rack.
COSORI Air Fryer,Max XL 5.8 Quart
Made with an angled display, this compact air fryer has won the Red Dot Award for best design. It features a 5.8-quart basket, 12 presets for steak, poultry, bread, and more as well as multiple temperature settings.
Philips Kitchen Appliances Digital Twin TurboStar Airfryer
This unique air fryer comes with a fat removal technology and 5 programmable settings. Not only can it air fry, but it can also reheat, grill, bake, roast, toast, and dehydrate. The unit has a 3lb capacity.
Breville BOV900BSS Convection and Air Fry Smart Oven Air
Designed with stainless steel, this convection oven has 2 fan speeds. The unit air fries, dehydrates, and roasts. It comes with a 5-quart oven, 6 independent quartz heating elements, and 13 cooking functions.
How Air Fryers Differ Across Brands
Designed to produce healthier foods, air fryers are available with different functionalities and features. Depending on the model, this kind of kitchen appliance will fry your favorite meal with at least 70% less fat.
In these terms, the most efficient one seems to be the Philips TurboStar Airfryer that can make crispy and deep-fried foods with 90% less fat. For a family of 4, the best air fryer should have at least 4-quart capacity. Such units typically have 1,700 watts of power.
In some models, like the OMORC Habor Air Fryer, wattage can go up to 1800W. This appliance allows you to serve up to 8 people at a time but is not energy-efficient, though.
Besides, air fryers differ in the number of features and functions. Brands like Cosori and GoWise offer multifunctional products with many preset cooking functions for steaks, fish, chickens, seafood, bread, and more. They can not just fry but also bake, grill, and roast. The GoWise GW22638 Air Fryer comes with 8 options and the rapid air circulation technology while the COSORI Max XL is made with 11 preset functions and an innovative LED panel.
Air Fryer Sizes
Air fryers come in different sizes, shapes, and designs to meet the demands of any customer. There is, therefore, no universal rule of choosing the right air fryer as much depends on how much the appliance can hold. If you cook for yourself most of the time, a large-capacity air fryer will be inappropriate. Such a device will consume more energy than needed and take up extra space.
On the other hand, if you have a large family, you are better off buying an air fryer that can fit enough food for 8 and more servings. Keep in mind that overcrowding the basket is one of the common mistakes. What separates an air fryer from other kitchen appliances is that its efficiency depends on air circulation. So when placing food items in the basket, make sure there are spaces in between them. That is why you should opt for a larger air fryer if you are going to make meals for several people at a time.
Now, let's compare the four main air fryer sizes: small, medium, large, and extra-large.
Small models typically have a capacity of no more than 2 quarts and are best suited for preparing individual meals. When I was a student I rented an apartment with a kitchen and living room combined. I used a small 1-quart air fryer and that was a great space-saving solution. But I would not recommend this option for two-person families since it will accommodate just as much food as you can eat alone.
Medium air fryers are 3 to 5 quarts in size and are the most widespread option for today. They cook enough food for more than one person but, at the same time, do not take much counter space. Note that you will need somewhere to store the device between usages, so this factor really matters.
You may like T-fal Actifry Oil Less Air Fryer. To make French fries in the ActiFry, you may use only 1 tablespoon of oil. While these devices are a true middle-ground solution, I have never considered them for buying when purchasing an air fryer for my family. Why? Medium air fryers lack many beneficial features that large-capacity models have. Since I had to cook for several people simultaneously, a greater number of programs, fan speeds, and accessories made a huge difference.
From my experience, large air fryers are just perfect! These appliances can hold 5 to 6 quarts and comfortably accommodate a whole chicken. Ideal for batch cooking, large air fryers are a frequent choice of families with children.
Extra-large air fryers offer 6 quarts and more. Designed to hold an entire turkey or multiple servings, large-capacity air fryers have some essential drawbacks, though. First, they will create lots of heat in your kitchen and, secondly, they are bulky and are problematic to store.
A counter-question: what is your family size? If you are tight on a budget and have a family of 2, you can go with a small 2-quart air fryer. Not only are they cheaper but they also require little power to operate, something that will affect your utility bills.
But again, I'd recommend a little bit large model to ensure the air will move around freely between the food items. For a family of 3, you should buy an air fryer with a capacity of up to 3.5 quarts. These models have enough room for batch cooking and pretty fast.
If you have a family of 4, consider sizes up to 6 quarts. The largest air fryers that are over 6 quarts are best suited for a family of 5. In addition to being amazingly spacious, they generally have extra features, accessories, and compartments.
What size air fryer should I get for my family?
If you are cooking for just one or two people, a small air fryer will be ideal. You need to watch over it and most models have little room. As a general rule, the capacity should be equal to the number of people eating the food. For example, if you have 2 people, choose an air fryer with a 2-quart capacity.
If you're buying for your family of 3, buy an air fryer with up to 3 quarts. If you have kids like me, you understand this is not enough. 3 quarts is too little for cooking a whole chicken and when there are people who like to eat it cold, it's not great either.
For a family of 4 or more, you need to buy an air fryer with at least 3.5 quarts capacity. Don't forget that your family will expand as well and dinner parties can happen as well.
Which air fryer is best for family?
When it comes to the budget, such is a difficult choice. I have never given much importance to air fryers for my family and I would most likely go for a small size. However, if you do not want your kitchen to look like a chemistry lab and you have enough money, go for a large-capacity model.
The most important factor is what is your family size. If you feed just one or two people, the small air fryer will do. But if you have a large family, then consider the larger size air fryer with many features and accessories.
What is bad about air fryers?
Many of the air fryer reviews focus on their pros and cons. As you can see, there are many advantages of these appliances. You can cook in half the time, thus saving energy and water as well. You will be able to prepare delicious meals with fewer calories as you don't have to use oil or fats. Most importantly, they make your life easier by reducing cooking time and liquid consumption.
The disadvantages are not many but they are annoying enough to be mentioned. First, the oil drainage may occur during cooking and you need to be ready to clean it. Moreover, air fryer recipes take a bit of time to learn. If you make a mistake in the process of cooking, it might be hard to fix it or even harder to clean the basket right away.
Is air fryer worth buying?
Air Fryer is probably the best time and energy saver. This simple appliance is able to cook meals in much less time than regular frying or baking. In addition, air fryers are good for your health as you don't use any oils, fats or extra calories.
Most of the air fryer reviews focus on their pros and cons but I would like to add some more information on this topic. I have already explained that air fryers make your life easier and reduce the time spent in the kitchen. However, if you have a large family, you will spend more time cleaning the mess that this device makes.
It's easy to say but harder to do! I know that there are very clean air fryers but many of them leave oil at the bottom of the basket. If you want to use yours continuously, then be prepared for a lot of cleaning.
What are the disadvantages of air fryer?
First of all, many people are doubtful about the safety and health. In fact, the biggest advantage of these appliances is their ability to reduce the amount of oil used. If you want to buy an air fryer with a large capacity, then it's only natural to think about whether it's healthy.
Perhaps there will be some studies that show that air fryers are not good for your health and they contain some carcinogenic substances.
Now that you know everything about the best air fryers and don't have to worry about what to choose, it's time to decide. The main aspects to consider are the capacity and size of the air fryer and your family needs.
If you're single or alone and do not want a larger appliance, you can go with a small model. They are affordable, convenient to store and easy to clean. However, if you have a larger family or want to cook at the same time, you need to buy a large-capacity model. They are comfortable, convenient and offer many different features.
Buying an air fryer will be one of your best investments. You'll save a lot of money on cooking, on the amount of power and water consumption as well as enjoy delicious food with less calories in it.