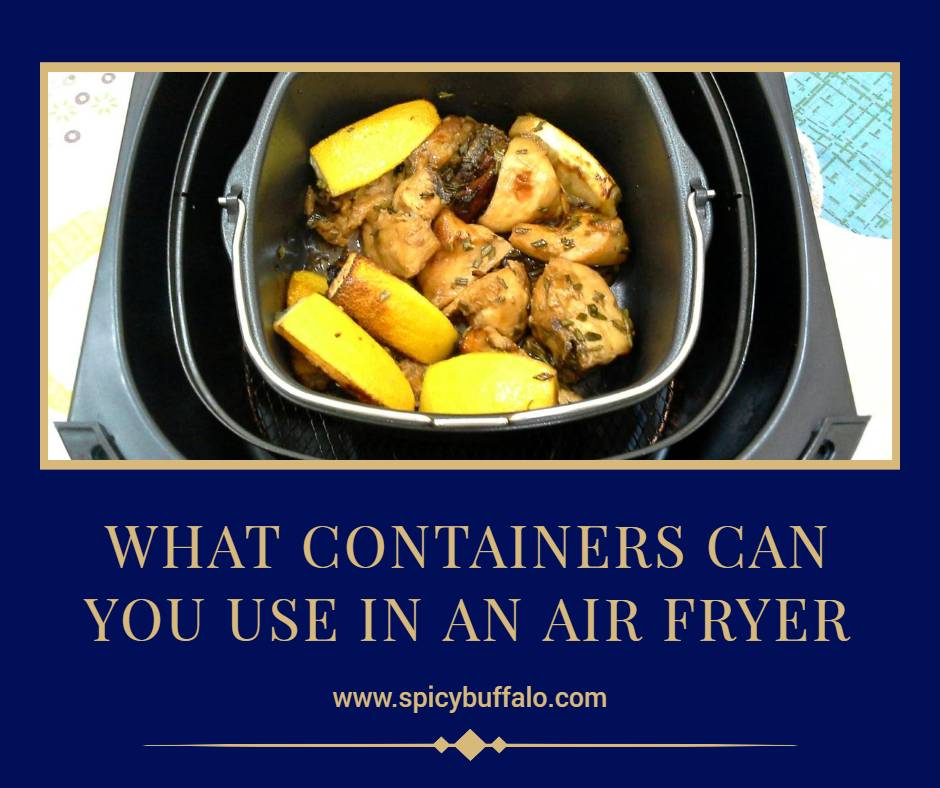 Most air fryers include a basket, oven racks, trays, or other inserts. These are specially made for an air fryer. However, what happens when these inserts are dirty, or you are making a dish that can't be made with basic accessories that come with the air fryer? Luckily there are numerous containers you can use in an air fryer to prepare your desired meal.
I use several containers myself, but in order to find other available options, I researched in detail containers that correspond with air fryer capacities and are at the same time air fryer proof. So the answer to what containers can you use in an air fryer is listed in the table below:
What Containers Can You Use In An Air Fryer
Container type
1 Ceramic pot
2 Ceramic baking dish
3 Ceramic oval bakeware
4 Souffle Dish Ramekins
5 Soup bowls
6 Glass containers
7 Cast iron dutch oven
8 Cast iron mini lodge pan
9 Stainless steel
10 Multi use Aluminum containers and pans
11 Copper – detachable handles
12 Silicone mould
13 Silicone cupcake liners
14 Silicone air fryer basket
15 Pizza stone
16 Non-stick teflon muffin pans
If you need to check container dimensions that will fit your air fryer, click on the picture, and you will be taken directly to Amazon, where you can check all the details.
You can also check best containers for the toaster oven in my other post here!
Best Containers You Can Use In An Air Fryer
Ceramic Containers
The term ceramics can mean either ceramic crockery, such as bowls, plates, and cups that do not contain metal and ceramic cookware, which is metal with a ceramic coating. Both should be suitable for air frying as they can keep their shape and structure under high temperatures.
However, if the ceramic bowl or cup has decorative additions, this may make it not safe for use in an air fryer. Be sure to check with the manufacturer. If you can not find the information, do not risk it.
Ceramic Cookware
Ceramic cookware is metal cookware, such as pans and casserole dishes, that has been coated with a layer of heat-resistant and corrosion-resistant ceramic such as clay.
Because the cookware is coated, it is great at retaining heat without holding onto flavors of what you cooked in it last time. Using ceramic cookware in an air fryer is a great way to make stews and soups without a direct gas flame. The heat will penetrate the food from all directions.
Ceramic Crockery
Ceramic bowls, unlike cookware, do not contain any metal and are therefore more easily broken. Cereal bowls, soup bowls, and coffee mugs are often made out of this material. Because ceramic is heat resistant, ceramic crockery will be fine in an air fryer.
Soup Bowls
Large capacity: 24 ounces large soup bowl is great for hearty soups and serving, such as french onion soup, stew, chili, oatmeal, pasta, cereals, lobster bisque, side dishes, ice cream. Suitable for use with foods of various capacities without worrying about the soup overflow
Simple and Classical Design: The substantial handles of the bowl on either side are convenient to pick up and keep balance, sturdy but not overly heavy, only 0.52kg each bowl. This solid & beautifully soup bowl makes for great companion dishes to any table setting and also the ideal for gifts
Versatile and Healthy: DOWAN solid ceramic bowls made of high-quality material, lead-free, cadmium-free.No worry about getting worn&rough, bad smell, or distorted when In the heat. oven, microwave, fridge, freezer, dishwasher safe
Tidy and Space-saving: Stacked for storage, the 4 sets of bowls are eight inches in height. Free up enough space for other dining set in the kitchen cabinet,these soup bowls are stain-resistant and easy to clean
Glass Containers
Glass containers boast the benefit of being see-through, of course. This can be great if you want to keep an eye on your food as it cooks. As well as being transparent, glass as a material is good at warming up fast and good at not holding onto flavors of past food.
Glass is rarely used as a material for pans and cooking instruments that go under a direct flame. It is more often used for bake-ware such as roasting dishes and pie dishes.
Glass can be used in an air fryer because it can resist oven temperatures. However, be sure to let the glass cool slowly, as plunging the temperature of the glass too quickly can make it shatter.
Simax Round Glass Casserole Dish: Clear Glass Round Casserole Dish with Lid and Handles – Covered Bowl for Cooking, Baking, Serving, etc. – Microwave, Dishwasher, and Oven Safe Cookware – Quart (1.5 Quart)
EASY COOK AND STORE. Casserole can withstand temperatures between 572° and -40° Fahrenheit (300°/-40° Celsius). Use it to cook your food and then place the leftovers in the fridge or freezer for convenient storage- transparent glass allows you to monitor the cooking process and easily identify leftovers. Baking dish measures 8.2 inches long X 8.2 inches wide X 3.5 inches deep and holds 1.5 quarts. Microwave and dishwasher safe. Made from Cadmium and Lead free recycled glass.
Metal Containers
There are many different types of metals that are used for cooking. As long as the metal container is made entirely out of metal, with no plastic handles or lids, then they will be fine for air frying.
Cast Iron Skillets
A favorite amongst some chefs, cast iron as a material is great for retaining heat and holding onto a depth of flavor from previously cooked meals. Cast iron pans and skillets can be used in an air fryer safely. Just make sure the lid you use, if you are using one, is oven safe too.
Le Creuset 3-1/2-Quart Dutch Oven
Colorful, long-lasting exterior enamel resists chipping and cracking; interior enamel is engineered to resist staining and dulling
Sand-colored interior enamel makes it easy to monitor food as it cooks, preventing burning and sticking
Oversized handles provide even weight distribution and a secure grip
Ergonomic composite knobs are heat resistant to 500°F
Built-in lid stabilizers provide a secure, no-slide fit
Stainless Steel Bowls, Pots and Pans
So, can you use steel bowl, pots and pans in air fryer? Sure you can, it's safe but only if the container is made only from steel! Most households have at least one stainless steel pot and pan. They are great for cooking dishes that require frying and for making delicious sauces. As long as your stainless steel bowl, pot or pan does not have any attachments on it that could melt, it will be suitable for the air fryer.
It is best to use stainless steel bowls, pots and pans without loop handles because of the space in the air fryer.
Occasionally stainless steel pans will feature a plastic handle or a plastic section on the handle of the lid. If your pan has any plastic on it, it will not be safe for the air fryer. If you are unsure, do not run the risk, as there are many other options.
Steel Stock Pot 4 Quart
Quality and Construction: Surgical Grade Stainless Steel. Multi Core for rapid, and even, heat distribution. 360 Cookware is thicker than most cookware brands on the market: 110 Gauge. Our Surgical Grade Stainless Steel Cooking surface gives you a healthy, eco-friendly alternative to coated nonstick frying pans or any aluminum pots and pans set.
Details to Make Your Life Easier: Dishwasher safe. Oven safe up to 500 degrees F. Ergonomic handles for easier and better control. Works on every type of stove: gas, electric, smooth top, glass top and induction cooktop.
Lifetime Warranty, Heirloom Quality: Buy 360 Cookware once and keep them forever. Why pay more over the years by buying cookware you continuously have to replace? Buy 360 one time. "The Last Cookware You Will Ever Buy." 360 will be in your family for generations to come.
Eco-Friendly and Certified Green Manufacturing: 360 Cookware is manufactured in West Bend, Wisconsin. Recognized by the EPA; our manufacturing process includes no harsh chemicals but instead uses a dry sanding process to produce a smoother finish, which results in easier clean-up and a nicer final product.
Proudly Handcrafted in the United States. Our Customer Service is also in the United States. Additional recipes, videos, cooking tips, facts and answers to commonly asked questions are on our website.
Silicone Containers
Believe it or not but silicone can go in the air fryer. The soft, bendy, pliable material is great for use in baking and other types of cooking that involve getting something out of the container easily. Silicone loaf and muffin containers are a great way to bake in an air fryer.
Silicone is a type of plastic that does not melt until it is actually on fire. This means that it is safe for use in ovens and air fryers without melting. Make sure your silicone molds are designed for cooking, just in case.
The main benefit of using silicone is being able to remove the food from the container easily. We have all experienced the difficulty of getting brownies out of the greaseproof paper or having a cupcake stuck to the cupcake paper wrapper. Silicone is a great solution to these problems.
Aluminum and Copper
When you think of aluminum containers for air fryers, you think of single-use containers. They are very convenient. Put any food in these containers, place them in the air fryer, and when it's done, you easily eat out of them. They come in various sizes and some even with a cover and for multiple uses, like these ones:
Sturdy Foil Pans with Snap-On Lids
HEAT AND COLD PROOF WITH A HIGH THERMAL SHOCK RESISTANCE. Pop your casserole in the oven, stick it in the fridge to cool off, and reheat it in the microwave… all without shattering the glass. No need to start transferring leftovers to a new container. Simply store this pan in your refrigerator, and then pop it in the microwave to warm up when you are ready for round two. Dishwasher safe for quick and easy cleanup.
Copper cookware is expensive and not often used in air fryers. But if you have a small saucepot or skillet without a handle, you can easily use it in the air fryer.
Non stick Teflon containers
Some are pro and some against teflon. I always say if you use proper utensils when handling food in teflon it won't scratch. The best thing about teflon is, your food will not stick to the container. Your muffins will effortlessly fall out.
Air Fryer Muffin Pans
PERFECT DESIGN FOR AIR FRYERS : StyleMbro's Muffin Pan is adaptable every airfryer size! You can bake 6pcs of muffins or other baking food in 5.3 & 5.8quarts air fryers.
NONSTICK AND EASY RELEASE : Teflon coating makes your food easily released.
HEAT RESISTANCE : Safe up to 460℉ / 240℃. Recommended cooking time for muffins is at least 10minutes in 320℉ / 160℃, but cooking time is depending on paste or dough.
DIMENTIONS : 3.1 x 3.1 x 1.8 inches per one piece.
HAND WASH ONLY AND USE SOFT SPONGES.
Other Containers
The rule of thumb here is that if it is oven-proof, then it will be air fryer proof. Even stone containers or implements that you use in oven cooking can be used in an air fryer. A good example would be a pizza stone; if you can fit it in the air fryer, it will work fine.
Can you put a pan inside an air fryer?
Yes. You can put all kinds of containers, bowls and skillets in the air fryer.
The main reason you would want to place pans inside the air fryer is to take advantage of the additional space within it. If you are cooking something that takes longer than usual, it might be a good idea to place another container inside the air fryer. This will allow your food some extra room for cooking and even let it form a brown crust if desired.
If you are cooking two types of food at once, or two different batches, then placing the containers in another container will ensure that they do not touch. If you are using a deeper pan, the bottom of each container should be touching so that their heat transfer can be equalized.
As with any non-stick or non-metal cooking surface, you will want to be careful when placing any items within it so that they do not break. When buying pans, look for ones that have a handle on the side and one that is functional. This way you can use the same pan over and over again if possible.
Can I use a metal cooking dish in an air fryer?
No. While metal containers may seem like a good idea at first, they are not safe for use in an air fryer. Metal and metal cooking utensils cannot withstand the heat inside the air fryer. All of the food in an air fryer will be heated up to such a high temperature that it will turn into a caramel-y substance that will eventually burn your food.
Do you stick with one type of container or can you mix it up?
When using air fryers, it really does not matter too much whether you use all one type of container throughout your recipes or if you use different ones. You can even make several batches at once before or after each recipe and switch them out as needed. The only reason to stick with just one type of container is if you do not have enough space in your air fryer for a full recipe.
What can you not put in an air fryer?
Definitely anything that is metal or ceramic should not be put in an air fryer. You will most definitely break the air fryer or crack the ceramic and cause it to catch on fire, which is dangerous and will make your food taste bad.
Can you use Pyrex pans?
If you use traditional Pyrex pans, then they are not safe for use in an air fryer. The glass will break from being heated up so much by the high temperatures of your air fryer. Pyrex does have a special line of air fryer containers, so if you want to use one, look for that brand instead.
Is it safe to put metal in an air fryer?
The majority of the metals that are used in cooking are not safe to put in an air fryer. You will most definitely break the air fryer or crack the ceramic. There is one type of metal that is safe to put in an air fryer, so you have to watch out for it. That is stainless steel, which can be put into the air fryer safely once it has been properly seasoned.
Can you use aluminum pans?
If you use traditional aluminum pans, then they are not safe for use in an air fryer. The aluminum will break from being heated up so much by the high temperatures of your air fryer. If you want to use one, look for a nonstick version instead.
Can you put paper towel in air fryer?
Yes. You can use paper towel as an alternative to parchment paper if needed. Just make sure to not use the heavy duty kind because it will surely break in the air fryer. You can also use a regular paper towel if it doesn't matter too much if it gets ruined or lost.
What about silicone muffin cups?
Silicone muffin cups are a bit tricky when using them in an air fryer. They need to be treated like a non-stick container, which means once you take them out you will have to let them cool completely before taking them out. Usually that takes about 20 minutes, but it really depends on how hot your air fryer is and how long you have cooked the food in it. This is because they are soft and flexible, so they can easily deform when they are hot.
Thank you again for downloading this book!
I hope this book was able to help you to understand the basics of the air fryer and give you some tips along the way. This book is meant to be a start for your journey in discovering how to cook with an air fryer and even start making your own recipes. With that said, I hope that you are able to find something tasty for yourself and your family.