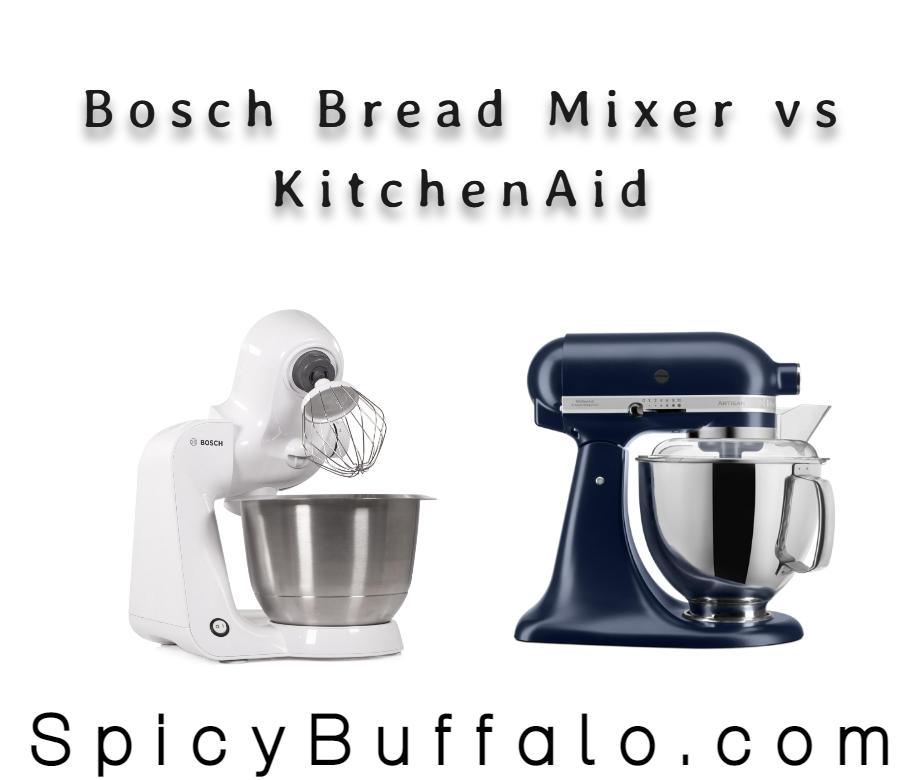 Baking bread is one of the most satisfying and rewarding culinary processes you can do. There's something so gratifying about watching bread rise, getting your hands into the dough, and finally slicing up a loaf of freshly baked bread that smells like heaven. If you want to make this delicious project as easy as possible, Bosch has just made it better with their new bread mixers.
This post will discuss what these new Bosch mixers have to offer, how they compare to KitchenAid's own line of products, and take a look at what consumers are saying about them in their reviews.
Mastering the Art of Mixing
Bread mixing is one of those skills that requires patience and practice, like cooking in general. If you've tried to make bread by hand, you know what I'm talking about. You want your dough to be just right, and you want to get it mixed up enough that the flour, yeast and salt can come together and start leavening the dough. If the mix isn't done when you pull out the dough hook or kneading bowl it won't work. This isn't a skill you want to be challenged with while trying to prepare a meal for a hungry family at dinnertime.
Bread mixers from Bosch and other manufacturers like KitchenAid have revolutionized the way people make bread by hand. Now, they don't have to worry about the proper kneading technique or getting the dough mixed just right. They just pour their ingredients into a mixing bowl, plug it in and turn it on. The power of the motor does all of the hard work for them.
A Look at Bosch's Bread Technology and Features
Bosch has been one of the leaders when it comes to developing kitchen tools that make cooking easier and faster while maintaining high performance and durability. They have been manufacturing quality kitchen appliances for over 100 years, and their new bread mixers are among the best on the market.
Bosch makes three different mixers that range in terms of their capacity and price, but all of them are great options for making fresh bread at home. They come with a variety of different features to ensure that they provide a smooth and easy mixing experience.
Features include:
A safety lock so that the mixer won't start if the cover isn't completely closed. This prevents accidents from happening when you're not paying close attention. Bosch will be including this feature with all new models going forward.
How do you use a Bosch bread mixer?
A 7-year warranty that covers defects in materials and workmanship for the life of the mixer. The motors are covered for 7 years, and the other parts are covered for 2 years. Bosch has a worldwide network of service centers so that if anything goes wrong with your mixer you can get it fixed close to home or on vacation in no time.
A delay start timer that will allow you to set your mixers to begin mixing when it's most convenient for you. Since bread takes a while to make this is an extremely useful feature when you have other things you need to do around the house.
A large capacity mixing bowl that can hold up to 6.5 liters of ingredients. It's made of strong and durable material and has a non-slip bottom so that it doesn't slide around on your countertop during operation. The dough hook is also designed with this same non-slip technology, so that it won't fall off the sides or bottom of the bowl during use.
AutoSift paddle ensures that all ingredients are combined into one smooth mixture without getting clumped up or stuck in the corners of the bowl. Bosch has solved a common problem found in most mixers by adding this feature to their product line.
What can you use a Bosch mixer for?
Cream puffs or eclairs – you can use the mixture setting on the mixer to prepare cream puffs, then stuff them with whipped cream when they're ready. You can also spread chocolate or strawberry filling in the center and top them with whipped cream. You can make anything that requires a pastry bag or piping tip by using this method and a pastry bag (you'll need to play around with it and see what works best)
Pros and Cons of Bosch's Bread Mixers?
Bosch has three different models of bread mixers available. Here is a brief overview of each model and what they're designed to do.
Bosch MUM6NU40B ActiveDough Automatic Bread Maker Mixer
If you're an avid bread baker or someone who loves making pastries this is the mixer for you. It comes with a very sophisticated set of features that will ensure consistent results every time. It comes with a delay start timer and a programmable interval timer so that you can set your mixers to start mixing at the perfect time, whether it's two hours from now or in 30 minutes. This means that it's ideal for people who need to bake bread in the morning and then leave for work before the bread rises and finishes baking.
How do you set up a Bosch mixer?
You can make up to a 1.5 kilogram loaf of bread in this one, which is larger than the other models. It also has some unique features like a "soft start" function that ensures that your ingredients start mixing as smoothly as possible and a bucket-lift lid that lifts off of the mixing bowl. This makes it easier to add ingredients to your mixers without having to take out the bowl and then put it back in later. The digital control panel is very easy to read, which is convenient because you don't want to waste time with reading instructions when you're trying to get dinner on the table.
Bosch MUM5NU40E ActiveDough Automatic Bread Maker Mixer
This model is perfect for people who just want something that can handle their basic bread making needs without any fancy knobs and dials. It's the most affordable of Bosch's bread mixers, but it doesn't skimp on quality. It still has a 7-year warranty on all parts, including the motor. It also comes with a non-slip bottom so that it doesn't move around while you're using it. All of the electronic components are covered under its 2-year warranty. It comes with a simple digital control panel and programmable timer that allows you to set your mixer whenever is convenient for you.
Why is my Bosch mixer flashing red?
It's important to note that all of the controls on the mixer are designed to be easy to use, even without the use of the instruction manual. However, you may find yourself needing it when you're trying to make your first loaf of bread or a new recipe. If your mixer seems to be blinking or flashing a red light, perhaps because you didn't recognize or push a button correctly, here is a quick rundown of what this could mean and how you can fix it:
Red LED means that your machine has been damaged
Red LED means that there is something wrong with your machine and Bosch recommends taking it into the place where you bought it for repairs.
Red LED means that there is something wrong with your machine and Bosch recommends taking it into the place where you bought it for repairs. Flashing red means to just push the button again to continue your cycle as normal
Flashing red means to just push the button again to continue your cycle as normal Yellow flashing means that you need to replace parts or a whole machine if needed
Yellow flashing means that you need to replace parts or a whole machine if needed Green LED means that everything is working correctly and all controls are set correctly. As long as none of the lights are blinking this means that everything is running smooth.
How do you fix your Bosch mixer?
There are three main components that should be replaced in any machine that has broken: the circuit board, the drive belt, and the mixing bowl. The only thing you can do is call Bosch and have them send someone to fix your machine. Be sure to check for recalls on any broken machines before you bring it in for repairs.
How do you disassemble a Bosch mixer bowl?
You can disassemble the bowl by removing the dough hook and top cover with a Phillips screwdriver. Next, you'll need to remove the screws holding the inner bowl in place. Once it's removed you can clean all of the parts with warm water and soap to get rid of any residue left behind. You'll also want to replace the rubber gasket on the inside of the bowl with a new one that you've purchased from Bosch. You can find these at most hardware stores or online.
How do you use Bosch's automatic dough system?
This feature allows you to put your ingredients and yeast in the mixer, then set your machine to "dough only" mode. This lets you make everything from tortillas to pizza dough by simply pressing a button on your Bosch mixer. It comes with a programmable timer for even more convenience and better results.
What is Bosch's delay start feature?
This feature lets you set your machine to start mixing at a desired time as opposed to when it goes off. This helps you start your bread baking at the time that is best for you, whether it be in the morning or in the evening.
What is Bosch's Memory function?
This function uses a permanent memory chip inside of your machine that remembers the last cycle settings for each recipe so that it will mix things up but won't over mix or under mix. Very useful if you like using different kinds of ingredients and find yourself making different kinds of bread at different times. It also keeps track of how long each cycle takes so that your bread always comes out perfectly.
Final Thoughts:

When upgrading to a new Bosch model it's important to note that most of their machines are completely mechanical and will function as a normal mixer does. The only thing that differs is the digital interface and controls. Some users have said that this is a feature they prefer because it gives them more control over the process instead of being stuck with preset times.