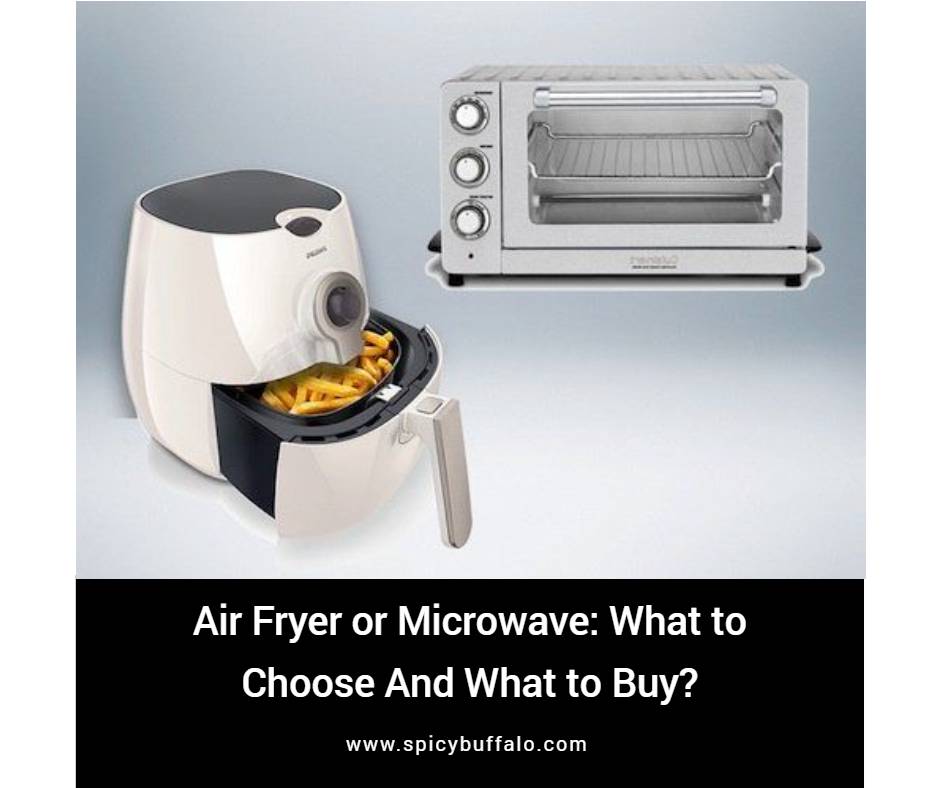 Microwave or an Air fryer can be a confusing choice. An air fryer is a countertop oven that uses hot air convection for making deep-fried, crisp foods without using any oil. It allows you to make restaurant-quality dishes at home with ease and comfort.
A microwave is an electric oven that uses hot air to bake its contents and cook food to perfection. It has a separate heating chamber with a rotating turntable in the center to heat food evenly. This cooking equipment is popular because of its versatile cooking programs and easy-to-use interface.
A microwave works on the principle of using electromagnetic waves to heat food particles. It uses high radio frequency waves that transmit through a tube called a magnetron. The energy used is equivalent to 2,450 megahertz, making it efficient to cook and heat food.
An air Fryer works on the principle of convection, where hot air circulates inside its chamber via a high-speed fan. This air sucks out the moisture from foods, forming a crispy layer. It forms a deep-fried browning effect on the foods with the reactions like caramelization and the maillard-effect. This makes the food taste like fried ones.
The major difference between microwaves and fryers is that microwaves can heat and reheat food, whereas air fryers alter the way the food is cooked. You'll need a microwave if you're looking to heat or cook food. The air-fryer can be your preferred choice if you plan to cook and get fryer-quality food items. We have listed the notable differences between the two appliances to help you decide which one should you buy.
An air fryer uses an inbuilt coil to produce heat. This, in turn, uses a fan to circulate the hot air within the chamber. A microwave has a heating element in the form of a tube called a magnetron. It blows out the heat produced by microwaves or high-frequency, short-length radio waves.
An air fryer takes more time to cook the food as compared to a microwave. For example, if you decide to cook chicken wings in an air fryer, it might take you 15-20 minutes. It may take you around 3- 4 minutes when you cook the same in a microwave. Our genuine reviews show that the longer cooking time often results in a better infusion of flavors. That is why air fryers offer even and flavor-packed cooking.
Size
Microwave Sizes:
Countertop microwaves are the best choice for convenient cooking. Figuring out what size you require is not that convenient, especially in the case of installing the microwave between cabinets. The majority of microwaves have between 1 and 2.2 cubic meters of internal space. The dimensions of the exterior differ based on the microwave model.
It doesn't matter if you are looking for an over-the-range microwave, countertop, air fryer ovens, or built-in microwaves, follow this guide on microwave sizes to assist you in finding the ideal size.
Airfryer Sizes:
If you are unsure about what size of air fryer you should purchase? We're here to help you decide with this easy Air fryer size guide! No matter if you're a single person or have a family, we have the solution to your needs.
The reviews of Sharp R-21LCFS microwave indicate that it is easy to use because of its compact size and design. An air fryer like the Proscenic T21 Air Fryer comes with the dimensions of 12 x 12 x 12.7 inches, making them suitable as countertop appliances.
Versatility
Air Fryers are versatile cooking appliances. They can cook seafood recipes like crab cakes or vegan favorites like tofu, potato nuggets, and potato wedges, etc. Microwaves can do all that and more. It can cook wet batter fish that you cannot cook with an air fryer.
Power Consumption
An air fryer uses less power than a microwave. Models like Ultrean air fryers use around 1500 watts, with certain models using up to 1700 W. Based on customer reviews, a microwave uses 1200W for approximately 30-40 minutes of cooking with an additional power of 2-7 watts for other purposes like reheating.
Health Factor
You can cook without oil in Air Fryers and that is why they are a healthy option. The modern microwave models still require some amount of oil to cook larger batches of food or for brushing the baking tray. The electromagnetic radiation in microwaves can put your food and health at risk. The air fryers use rapid air technology to cook the food.
Capacity
The capacity of microwaves is more than air fryers. You can cook larger batches of food at once in microwaves by placing borosilicate bowls to warm the food. On the other hand, an air fryer is used to cook smaller batches of food. For example, while cooking churros in air fryers, you can place only 5 to 6 churros at a time whereas in microwaves you can place 10-12 churros at once.
Advantages and Disadvantages of Air fryers and Microwaves
Advantages of Air fryers
Air fryers offer a crispier taste than microwaves because hot circulating air cooks it evenly from all sides. This eliminates the need for flipping the food over and over again which usually leads to the loss of some essential nutrients. For example, while cooking in microwaves, proteins get denatured due to extreme heat exposure.
You can cook food using a little amount of oil.
It takes less time to cook the food.
An air fryer is easy to use, clean, and store.
Disadvantages of Air fryers
Air fryers are not suitable for heavy-duty cooking because it takes longer cooking time as compared to conventional techniques. It can not cook larger batches of food at once.
Airfryer is expensive than a microwave.
It has an outer surface made of metal which becomes hot when in use. This makes it dangerous to touch.
This appliance only comes with a limited number of pre-set cooking programs, whereas microwaves have almost all options like reheating, defrosting, grilling, browning, etc.
Advantages of Microwaves
Microwaves are safer than air fryers as they only emit heat from the inner surface covered by the glass. This allows you to touch them while cooking, unlike air fryers. They are also easy to clean because of their smooth surfaces that don't require scrubbing.
Microwaves are affordable and easily available.
Food cooked in microwaves takes lesser time than air fryers.
You can use microwave ovens to cook large batches of food at once.
Disadvantages of Microwaves
They heat up the food from one side only and create a cold spot in the center of it.
Microwave emits non-ionizing radiation which is dangerous for humans and extracts away essential nutrients like proteins while cooking.
Food cooked in microwaves may taste chewy due to improper distribution of heat throughout the food.
The final selection depends on your cooking requirements. You can look for a top-rated microwave in our featured section if you need more cooking capacity. The air fryer gadget is best for its various legion of tastes. Both microwaves and air fryers are modern kitchen appliances that make your life easy and convenient. You can consider either of them on the basis of their specific usage.
Air fryers and grills are popular kitchen appliances with distinct advantages and features. Knowing the difference between Air Fryers Vs Grills will help you select the right model.
Buy the Best Air Fryer or Microwave
Ninja AF101 Air Fryer
The AF101 Air Fryer in the market comes with an easy-to-use control panel and 4-quart ceramic-coated non-stick basket. It has excellent reviews for its variable temperature setting that allows you to set your device at 105 degrees Fahrenheit to 400 degrees Fahrenheit. This machine has dishwasher-safe parts that make your cleaning tasks easier.
Nostalgia RMO4AQ
The reviews of Nostalgia RMO4AQ show that it features the best auto-cook functions that let you make your favorite dishes with ease. It has a large 10-inch turntable and a cooking capacity of around 0.9 cubic feet. This microwave measures 17.3 x 13 x 10.2 inches and uses 700 Watt high power. It also comes with 12 pre-programmed cooking settings.
Toshiba ML2-EM12EA(BS) Microwave
The Toshiba ML2-EM12EA(BS) Microwave reviews suggest that it has an efficient smart sensor system that ensures the moisture is sealed in the food to bring out a better texture. It has a 12 pre-programmed auto menu that lets you prepare pizza, potatoes, vegetables, popcorn, pumpkin soup, and much more. It has 1lb defrost settings, a child safety lock, and an ECO mode for energy-efficient operations. The bright digital display and easy-to-read control panel allow you to switch to any cooking program.
Can an air fryer replace a microwave?
Microwaves are used for cooking a wide range of foods from hot dogs to brownies. The energy-efficient technology makes them a good choice for when you want to heat or heat up smaller portions of food. Air fryers on the other hand, are simply used to cook small amounts of food until they are cooked through. They are both equally useful though they have different purposes. Before confirming which one you should choose, take a closer look at their specific features and specifications.
Microwaves use much less energy than air fryers so it is important to know what your power consumption is and how much time you spend in cooking with each type of appliance.
What are the disadvantages of air fryer?
The air fryers don't require much energy and can be used for small amounts of food but not for large batches. Their smaller surface area and slow heating method mean that they cook the food unevenly.
The air fryers do not have any settings such as defrosting or reheating, which means that if you want to use it with other appliances, it has to be plugged into a socket.
How to clean an Air Fryer?
If you are planning on buying an air fryer to cook with, you will probably want to know how to clean the appliance after use. Commonly, the user manual states that they should be cleaned by hand or at least wiped out with a damp cloth.
Are air fryers really better for you?
The air fryer is a common household appliance that can be used for cooking many fried foods. Using the air fryer to prepare food is considered healthier because it doesn't require frying in oil or fat. It eliminates excess fat and cholesterol, leaving you with a light and healthy dish.
In addition, unlike ordinary fryers, the air frier uses up less oil when cooking your food. Its non-stick surface heats up quickly and cooks your food to perfection in just a few minutes. Many people prefer using this type of fryer for its portability, convenience and easy use.
Do I need a microwave if I have an air fryer?
So, if you're a popcorn or potato lover, then you need to go for an air fryer. There are a lot of air fryers in the market. If you have one and want to buy the best microwave for small kitchen, here's what you need to know about microwaves.
What is an air fryer?
An air fryer is an electrical kitchen appliance that fries food by circulating hot air around it. It uses up less oil than ordinary deep fat frying and cooks your food evenly with the help of rapid heat circulation technology. As it uses very little oil making your fried food healthy and delicious.
Can you cook frozen ready meals in an air fryer?
Cooking frozen ready meals in an air fryer is not recommended. It might seem like an easy option to save time, but it will lead to a less appealing end result. The only way to cook frozen food in an air fryer is if you thaw them out first.
Tips to clean an air fryer:
You must be wondering how to clean and maintain your brand new air fryer? you can use the following steps to clean your air fryer:
Make sure all accessories are unplugged from the electrical outlet. Remove all accessories from the air fryer basket including food that might be stuck inside.
Wipe the outside with a damp cloth or sponge. Avoid using abrasive cleaners as they may damage the outer surface of the air fryer.
Do not spray with cleaning products. Directly wipe off any spills using a dry soft cloth and do not use paper towels which can scratch surfaces in the air fryer
Can you put foil in an air fryer?
Yes you can use foil in an air fryer. You can use aluminum foil to cover your food, which will allow you to cook your food more evenly. However, do not wrap the foil too tightly as this might prevent circulation of air and will result in a soggy crust
How long can you leave food in an air fryer?
The best thing about using an air fryer is that it cooks your food quickly. This means that it won't take up much time to cook, so every time you turn on the appliance it should be for cooking a batch of food and nothing else.
Microwaves use radio frequencies and electromagnetic waves while air fryers use just the hot air to cook food. Both the gadgets have their distinct advantages and features. Make sure you check our informative buying guide before making any final purchase.
It's tough to decide between Air frying and baking. Read our blog to know which cooking method is healthier. You can also look for verified reviews on countertop microwaves before buying. BestViewsReviews recommends and reviews the best-selling air fryers on the basis of design, ease of use, and build quality.