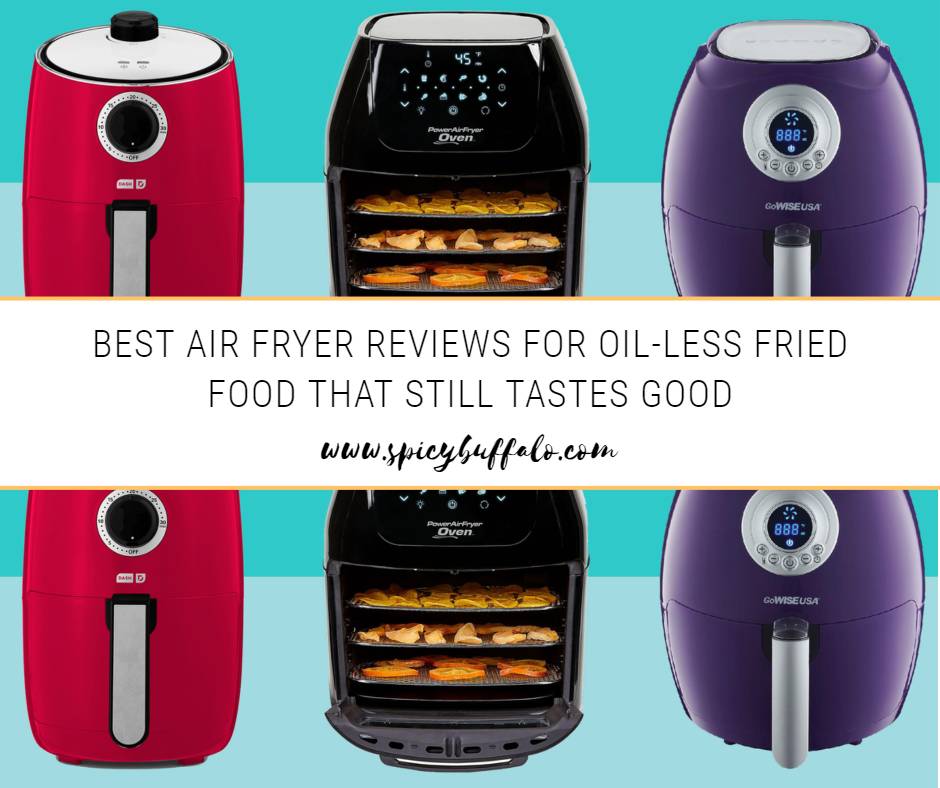 If you buy an item via links on this page, we may earn a commission. Our editorial content is not influenced by commissions. Read the full disclosure.
If you love the taste of deep-fried food but would like to have a healthier option, an air fryer is a good investment for your kitchen. In comparison with a deep fryer that needs a large amount of oil for cooking and absorbs an unhealthy high amount of fat during the cooking process, an air fryer uses 70-80% less oil, without scrimping on the flavor and texture of the food.
The 7 Best Air Fryers:
Philips Digital AirFryer
GoWISE USA 3.7-Quart Programmable Air Fryer (Our Top Pick)
Big Boss 16-Quart Oil-less Air Fryer
Best Choice Products 5.5-Quart Air Fryer
Avalon Bay 3.7-Quart Air Fryer
T-fal ActiFry Oil-less Air Fryer
Nutrichef 2-Quart 1000-Watts Air Fryer
Our Top Pick for the Best Air Fryer
Our top pick for the best air fryer is the GoWISE USA 3.7-Quart Programmable Air Fryer. With its funky bright Chilli Red color and new and improved innovative design and technology, you can choose multiple cooking methods: baking, roasting, grilling, or even revitalize your leftovers. The compact machine packs a powerful punch with 1400-watts of power and as it has a 3.7-quart cooking capacity, it can easily cater to a family of 4.
GoWISE USA has your safety in mind with a button guard on the detachable basket in case you accidentally detached it from the machine. The unit has so many other smart features that make cooking and frying a breeze, such as an adjustable temperature control from 175–400°F, a timer up to 30 minutes, and the unit automatically switches back to standby mode after it has finished cooking.
Although the non-stick coating can come off after long-term use, the secret to maintaining your air fryer's longevity is to clean it regularly.
What Is an Air Fryer and How Does It Work
"Air is the new oil" is the air fryer catch-phrase coined by Philips – the well-known multinational electro/technological corporation. In 2010, the team at Philips was seeking to find a healthier approach to deep-fried cooking that would still provide homemakers with the same taste.
The result of their research was the innovative method of Rapid Air Technology. Rapid Air technology allows food to be cooked through the combination of an element or a halogen lamp and superheated hot air that is conducted via a fan, which is then circulated around the food at high speeds.
A super-smart air fryer also draws upon the "Maillard effect", which is a chemical reaction between amino acids and reducing sugar, which is similar to caramelization – a form of non-enzymatic browning.
So after perfecting this method, the Air Fryer was born, giving the homemaker a multi-functional kitchen appliance that can cook, bake and fry food without high amounts of oil. This breakthrough technology allows you to evenly cook your food, while still retaining that taste and crispy texture that you have come to expect from deep-fried foods such as chips and chicken.
Make the Healthy Choice: Invest in an Air Fryer
If you are concerned about eating food that is soaked in fat and can pile on the calories, then an air fryer is a great healthy alternative to a deep fryer. Over the last few years doctors, researchers, and nutritionists have continually raised concerns over the detrimental effects that deep-fried foods can have on your body and brain.
As well as being high in fat which can clog your arteries, eating deep-fried food can create too much visceral fat around organs such as your liver, pancreas, and kidneys. Deep-fried food has also been linked to chronic health conditions such as acid reflux and IBS (irritable bowel syndrome), and serious health conditions such as Type 2 Diabetes and heart disease.
As well as the all-important health benefits, another reason to invest in an air fryer is that it is a multi-purpose appliance that will save you time and effort in the kitchen.
10 Benefits of Using an Air Fryer
Easy to use. Air fryers are easy to use and operator friendly with functions such as adjustable temperature, built-in timers, and automatic shut-off.
No mess and no fuss. You do not have to worry about oil spills as most air fryers only need a tablespoon of oil or none at all.
Safety features. With an air fryer, there is no need to worry about the oil boiling or catching fire. Some models come with a cool-grip handle or a button guard on the detachable basket in case you accidentally detached it from the machine
Multi-functional. Most air fryers have more than one function, they can fry, bake grill, roast, or BBQ.
No overheating. Air fryers have a cooling system that is provided via a fan.
Energy-saving. Air fryers use less energy than a deep fryer or a conventional oven.
Environmentally friendly. During the cooking process, any extra air is automatically filtered before being released, which means it is better for the environment. It is easy on your nose – your kitchen will be free of that lingering smell of rancid oil that can occur with deep frying.
Space Saver. Most air fryers are streamlined and will not take up a lot of space in your kitchen.
Deep-fried taste and crispiness. An airy fryer will still give you that much-desired deep-fried taste and crispiness to your food without the nasty fat content and dreaded calories. For the best flavor results use oils such as peanut and olive oil.
Easy to clean. Air fryers are easy to clean and are dishwasher safe.
Three Types of Air Fryers
There are three types of air fryers, depending on the brand or model you choose to buy.
Basket Air Fryers
Basket air fryers are the most common. They have a basket that is similar to deep fryers, where the basket is lowered into the appliance and you shut the lid while the food cooks. However, unlike traditional deep fryers that cook with large amounts of oil, an air fryer will fry your food to perfection from the powerful heating element and circulated superheated air.
Paddle Fryers
These kinds of air fryers have a paddle that stirs and rotates your food and prevents it from burning. which means you do not have to do any stirring during cooking. A paddle air fryer is best used for large food items such as chicken breasts, or egg rolls.
Some models come with a combination of Rapid Air Technology and a stirring paddle, and some air fryers have a paddle that oscillates automatically or you can use it manually.
Oil-free Turkey Fryers
An oil-free turkey fryer is great for Thanksgiving dinner, where you can cook an entire turkey (up to 16lbs) or other large cuts of meat. To cook an entire chicken or turkey look for an air fryer that has a cooking capacity of 1kg.
3 Handy Tips for Using Your Air Fryer
1. Read the Air Fryer's Manual or Instructions
One of the most important things you need to remember is to always read the instruction manual before using your air fryer. Most of us kitchen enthusiasts are guilty of ignoring the manufacturer's instructions as we are so eager to use our new bright and shiny appliance.
We just set up the machine, turn it on, and hope that we can use our machine with no problems. Usually, it is that easy, but a lot of issues can arise because we do not read the instructions set out by the people who have designed the unit and know how to get the best cooking and frying performance out of the machine.
2. Clean the Air Fryer Regularly
Sometimes a unit can break down or overheat and the result is black smoke and flames, or it can be hard to clean. Most units are designed not to overheat as they have a cooling fan, and they come with non-stick racks or bowls. However, if the air fryer is not cleaned regularly, operating issues can still arise.
3. Size Does Matter
Some models are smaller than others. If you are only cooking for two people or just cooking small portions such as French fries and calamari, then choose an air fryer with a smaller cooking capacity such as the Philips Digital AirFryer.
If you have a larger family choose a unit with a large cooking capacity, high wattage, and one that can cook large meals such as whole chickens like the T-fal ActiFry Oil-less Air Fryer.
Are there any air fryers that use no oil?
Yes, there are air fryers that use no oil. These types of air fryers are called Oil-less Air Fryers, Oil-less Turkey Fryers, or Rapid Air Technology Turkey and Chicken Fryer.
For those looking for an oil-free option take a look at some features of the T-fal Actifry Oil-less Air Fryer as well as the Philips Digital AirFryer which uses Rapid Air Technology and is also an oil-free unit.
The T-fal ActiFry Oil-less Air Fryer has a 2.2 Litre cook chamber and 15KW of power, while the Philips Digital AirFryer cook chamber is 1.7 Litres and 14 KW of power. Both these fryers are considered to be large capacity models that can accommodate a large amount of food.
Pros of Using an Air Fryer
• Easy to Use: Most air fryers are easier to use than conventional ovens because there is nothing to clean after cooking, this results in significant time savings and frustration. No oil spills either; you will not have the issue with those pesky oil spills!
• Non-stick Racks: For cleaning the non-stick racks, they will not rust and they will be very easy to clean.
• All-In-One Fryer: Most air fryers are one of those all-in-one fryer that can fry, grill, roast or even BBQ. This is great if you do not have a stove and oven, or if you are cooking for a large group of people.
• Easy Storage: When your air fryer is not in use it will not take up much space because most models are slim and streamlined so they can fit into almost any cupboard.
• Great for the Environment: The cooking process is environmentally friendly as all the extra air is filtered before being released into the atmosphere.
Do oilless fryers really work?
Yes, they do work, but they will not produce the same results as oil-based fryers. Air fryers use preheated air that circulate around your food. In order to achieve a deep-fried effect, there must be an oil layer underneath the food as a lubricant so that it can slide easily while cooking. The thinner and more even the layer of oil is on top of your food, the better your fried results will be.
However, since there are no oils in an air fryer it does burn at a much higher temperature than with oil in the pan.
What is the best air fryer on the market right now?
There are a lot of air fryers on the market and some are better than others. Here are a few of our favorites:
• Philips Digital AirFryer: This is a nice basic model that comes with presets and will fry at temperatures ranging from 200°C to 240°C or 390°F to 464°F. It also has pre-programmed functions such as stir-fry, bake, grill, roast and griddle. The basket can be removed and you can use it in the oven if desired.
• T-fal ActiFry Oil-less Air Fryer: This is one of the best models in this category as it has a large capacity, with 2.2 Litre cooking capacity. It has a 2000W power output, and the air circulating around the food can reach temperatures of up to 230°C or 462°F.
• Oster Air Fryer: This is another great all-in-one air fryer that can be used to cook a variety of foods from steaks to chicken breasts and even as an oven for baking and roasting. It comes with a 1.7 Litre cooking chamber, digital timer display and LED display panel that shows the status of your food, making it easy to use.
What is the difference between an oil less fryer and an air fryer?
There are some differences between an air fryer and an oil less fryer. An air fryer is a type of limited oil fryer in a way as it does not have any sort of heating element that uses oil. As the name suggests, this is a type of cooking that utilizes hot air to make food crispy and tasty. The circulating hot air will cause your food to bake, roast or deep-fry in its own fat, the same thing that happens when you use oil.
An oil less fryer on the other hand uses no oils of any kind. This is similar to what we call "dry frying" but there are no added oils or fats in this process as well.
What are the disadvantages of air fryer?
Although air fryers are a great alternative to conventional frying pans and ovens, they do come with their own set of drawbacks.
• Air Fryers Are Noisy: As most air fryers are very small in size, this means that they have less room for the heating elements and more space for the main fan to circulate hot air. This results in a higher noise levels that may be too uncomfortable for some people to bear.
• Air Fryers Are More Difficult To Clean: One of the disadvantages of using an air fryer is that although it is super quick to cook your food, it is more time-consuming than cooking directly on a stove or in an oven. You will need to clean the air fryer after every use and wiping down the oil chamber can be a real chore.
How to use an Air Fryer?
Using an air fryer is a simple process. Before you use it, make sure that the unit is unplugged and place it on a flat surface or counter top. Most air fryers will come with a tray of some kind or at least with a lid so that you can safely place your food inside. If your unit does not have this type of container, then you will need to purchase one separately.
Before starting to cook your meal, be sure to select the cooking temperature first by using the up and down arrows on the touch screen control panel.
Is air frying better than deep frying?
This is a simple answer: yes! Air frying is the better alternative to deep frying because it does not use any oil or fats, so all of the calories that would have been in there are burned off during the cooking process instead. Consequently you will save many calories when you choose to cook with an air fryer versus a traditional fryer. This makes an air fryer a great choice if you want to keep track of your calorie intake.
There are many brands of air fryers and models available on the market but there are a few that stand out as being superior to other models. Choosing the right one, depending on what you plan to steam or fry, can be a little confusing at first. The best way for you to make your decision is to try out several different machines in person so that it is easy for you to compare and contrast their features.